D-Link Nuclias Cloud-Managed AC1300 Wave 2 Outdoor Access Point

Powerful & flexible Cloud networking solution for Small-to-Medium-Sized Businesses (SMBs/SMEs)
D-Link Products
D-Link Nuclias Business Cloud Access Points
Nuclias Cloud-Managed AC1300 Wave 2 Outdoor Access Point
#DBA-3621P
List Price:
$857.99
Our Price: $815.09
Click here to jump to more pricing!
Overview:
The DBA-3620P & DBA-3621P Nuclias Cloud Managed AC1200 WAVE 2 Outdoor Access Points are deployed as a pre-managed, zero-configuration access point controlled through the D-Link Nuclias Cloud. These are the best-in-class outdoor access points designed specifically for enterprise environments. With next-generation 802.11ac Wave 2 dual-band concurrent 2.4 GHz and 5 GHz radios, the DBA-3620P & DBA-3621P offer high combined data rates to wireless clients and wide-ranged wireless connectivity. With an impressive protection rathing to defend against dust and water, the DBA 3620P & 3621P are equipped to withstand almost any outdoor environment.
Harness the Power of Cloud Networking
This device is part of the Nuclias Cloud Solution. Businesses of any size and level of IT resources can reap all the benefits of Cloud Networking to boost productivity and enhance competitiveness.
Zero Touch Deployment
Hassle-Free Management
Unlimited Scalability
Exceptional Connectivity, Wherever You Are
Busy businesses need exceptional connectivity outside as well as in. The DBA-3621P is built with that in mind, packed with connectivity features to keep data flowing fast — up to a soaring 1267 Mbps — even at the busiest of times.
Paired with two Gigabit LAN ports that support Link Aggregation, you have got exceptionally fast backhaul to the network. It gets business back operating at full steam.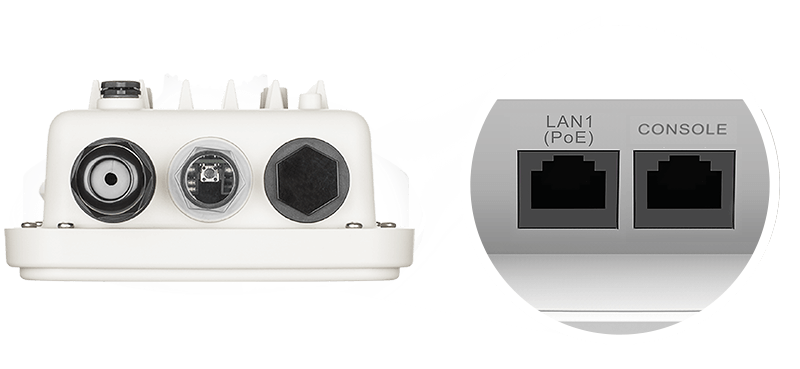 Features To Supercharge Your Wi-Fi
The DBA-3621P comes packed with features to maintain super-fast data speeds, even at peak usage times.
Band Steering
The 5 GHz band is the fast lane of your Wi-Fi. Band Steering automatically drives capable devices such as smart phones or tablets onto the 5 GHz band, delivering them a better experience, especially in situations such as HD video streaming or VoIP.
MU-MIMO
This feature is the ultimate weapon in handling congestion by being able to support more simultaneous streams of data. Your Access Points can serve more people at the same time. That's less waiting time all round.
Load Balancing
Redress the balance with Load Balancing. Connections are shared out fairly to surrounding Access Points, avoiding any single point in your Wi-Fi becoming overwhelmed.
Beamforming
Beamforming technology continuously optimizes the wireless signal, focusing and it towards receiving devices and following them. This adaptive beamforming enhances spectral efficiency and link quality.
Form Without Sacrificing Function
It can be hard to look good while still being functional. Yet the DBA-3621P strikes the balance just right. The smooth case in crisp white makes for an elegant design that can effortlessly fit into any setting. Being as functional as it is well-formed, it champions an IP-55 rating, fighting dust and repelling water, all while maintaining its good looks.
Use Case: Busy Outdoor Café
Your customers want a lighting fast connection, wherever they are sat. The DBA-3621P brings the same connectivity outside, so there will be no complaints from customers about a lack of Wi-Fi. Come rain or shine, get exceptional outdoor connectivity, all year round.
Your Guests Online in No Time with a Captive Portal
With your dual-band Wi-Fi up and running, it is time to get everyone connected. A captive portal is an immensely easy method for getting users online quickly. Simplify further with Social Login so guests can get online whichever way suits them best. And not only does it also increase brand recognition, but businesses can collect valuable data to better understand users.
Zero Touch Deployment for Simple Installation
The DBA-3621P Nuclias Cloud-Managed Wave 2 Access Point is deployed as a pre-managed, zero-configuration access point. No need to send out your most experienced engineer for every installation. With Nuclias Zero Touch Deployment, you can power-up the access points on site, plug them in, and remotely set up and manage them through the Nuclias Connect cloud software.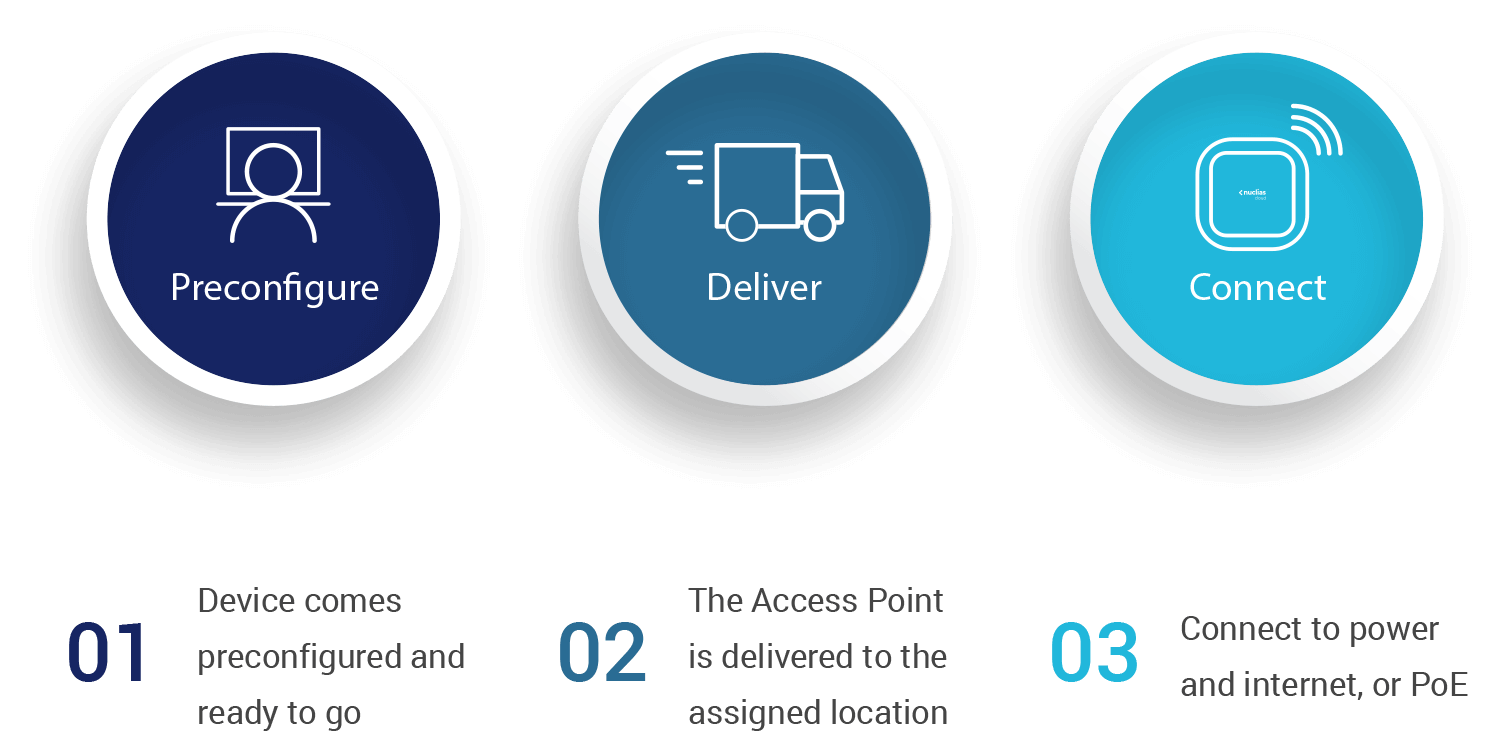 Complete Control over your Network's Access
Complete control comes as standard with the DBA-3620P. Combined with the Nuclias Cloud management software, a variety of the latest in network security and management tools are at your fingertips. You can rest assured that the best of the best are hard at work keeping your network protected and hitch free.
Supports WPA3™ – the latest WiFi security for more protection
RADIUS – Eliminate shared passwords with unique credentials for each employee
Customizable Captive Portal – Separate guest and employee access
MAC Filtering – Limit what devices can connect
Rogue AP Detection – Guard against unauthorized Access Point installation
Wireless LAN Segmentation – Better bandwidth utilization
Wireless Isolation – Limit what users access on the local network
Wireless Broadcast Scheduling – Automate when your network is available
SSID Broadcast Disabling – Hide your wireless for an extra layer of security
Essential Network Management Tools At Your Fingertip
Manage your entire network using D-Link's intuitive Nuclias Cloud Management platform. All aspects of your network are easy to reach through the highly powerful centralized platform. Tasks such as segmenting the network, managing multiple devices simultaneously, enforcing security policies, and monitoring live network statistics remotely can be done anytime, anywhere.
Peak Performance and Discreet Deployment with Power over Ethernet (PoE)
The DBA-3621P's Power over Ethernet (PoE) support allows for easy installation and a simple, clean setup. No need to run extra power lines, no added hassle when configuring your hardwiring and no more cable clutter. Perfect for advanced installations in areas where power outlets are not readily available.
Features:
Best-in-Class Built for Enterprise AP
IEEE 802.11ac Wave 2 wireless
Supports IEEE 802.3af Power over Ethernet (PoE)
IEEE 802.3az Energy-Efficient Ethernet (EEE)
Integrated DHCP server
Allows a high number of concurrent users
Enterprise Security
Personal and Enterprise versions of WPA/ WPA2 (802.11i) along with latest 128/192-bit Personal/Enterprise wireless encryption
SSID/Guest/Station Isolation
IP/MAC address filtering
Captive Portal (Facebook, Google, Line, Weibo, E-mail authentication, SMS)
Supports RADIUS client and cipher negotiation
Robust Build
The DBA-3620P holds an IP55 rating
Protected against any quantity of dust that could interfere with operation, but not fully dust tight
Completely protected against solid objects
Protection assured against water jets project by a nozzle (6.3mm) from any angle
The DBA-3621P holds an IP67 rating
Fully dust tight
Completely protected against solid objects
Protected against water immersion at a depth between 15 cm and 1 meter for maximum 30 minutes
11 AC Wave 2 MU-MIMO
2x MU-MIMO antenna with two spatial streams
Perfect for 'Multi-User', 'Multi-Input', 'Multi-Output' environments
Significantly reduces network congestion
Utilizes beamforming to direct signal at intended wireless device
Nuclias by D-Link:
Cloud Networking, Refreshed
The DBA-2820P Access Point (AP) is part of the Nuclias Cloud solution – D-Link's complete Cloud-Managed Networking solution for Small-to-Medium Businesses (SMBs), designed to make the ownership and administration of IT infrastructure as simple and hassle-free as possible.
Nuclias by D-Link is a complete cloud-managed networking solution for small to medium-sized organisations with one or more sites.
How it works
Wi-Fi coverage and network capacity are provided by high-performance Access Points and Managed Switches deployed on site, while configuration and ongoing management can be carried out remotely through a web browser or tablet.
Zero-touch provisioning and centralised cloud-based control make the network simpler to install and easier to manage. With Nuclias, network configurations and software updates are pushed to remote devices through the cloud, without the need to have specialised equipment or personnel onsite. SSL encrypted, out-of-band network monitoring and management ensures secure connectivity whilst minimising bandwidth requirement.
Main Features
Zero-touch provisioning
Role-based administration
Auditable change logs
Authentication via customisable captive portal, 802.1x and RADIUS server
Social login for Wi-Fi access supported
Advanced traffic report and data analysis
Intuitive web-based interface with multilingual support
Automatic monitoring and alerts
Over-the-web firmware upgrades
Searchable network-wide event log
Intuitive VLAN Configuration
Cloud based RF Optimisation
Specifications:
DBA-3621P Specifications
General
Interfaces
1 x 10/100/1000 Mbps Ethernet port
1 x RJ45 Console port
IEEE 802.11a/b/g/n/ac Wave 2 wireless
Ethernet Interface
1 x 10/100/1000 BASE-T LAN Port
Standards
IEEE 802.11a/b/n/g/ac Wave 2
IEEE 802.3az Energy-Efficient Ethernet (EEE)
IEEE 802.3af Power over Ethernet (PoE)
IEEE 802.3i/u/ab
IEEE 802.3x Flow Control
Antenna
2 x external Type-N antennas
» 2.4 GHz: 3.5 dBi
» 5 GHz: 5 dBi
Data Signal Rate
2.4 GHz: Up to 400 Mbps
5 GHz: Up to 867 Mbps
Functionality
Security
Lastest 128/192-bit Personal/Enterprise wireless encryption
MAC address filtering
SSID isolation
Guest isolation
Captive portal
Station isolation
SAE
AES
Maximum SSIDs
Up to 16 SSIDs per device
Up to 8 SSIDs per wireless band
Physical
Dimensions
460 x 160 x 79.5 mm (18.11 x 6.3 x 3.12 in)
Weight
1.38kg (3.04 lbs) without bracket
Power Input
IEEE 802.3af Power over Ethernet (PoE)
Power Consumption
PoE: 13.5 W
Temperature
Operating: -40 to 50 °C (-40 to 122 °F)
Storage: -40 to 65 °C (-40 to 149 °F)
Humidity
Operating: 10% to 90% non-condensing
Storage: 5% to 95% non-condensing
Mean Time Between Failure (MTBF)
1,305,297 hours
Mounting Options
Pole mount
Wall mount
Certifications
CE Class B
FCC Class B
UL
IC Class B
Antenna Pattern: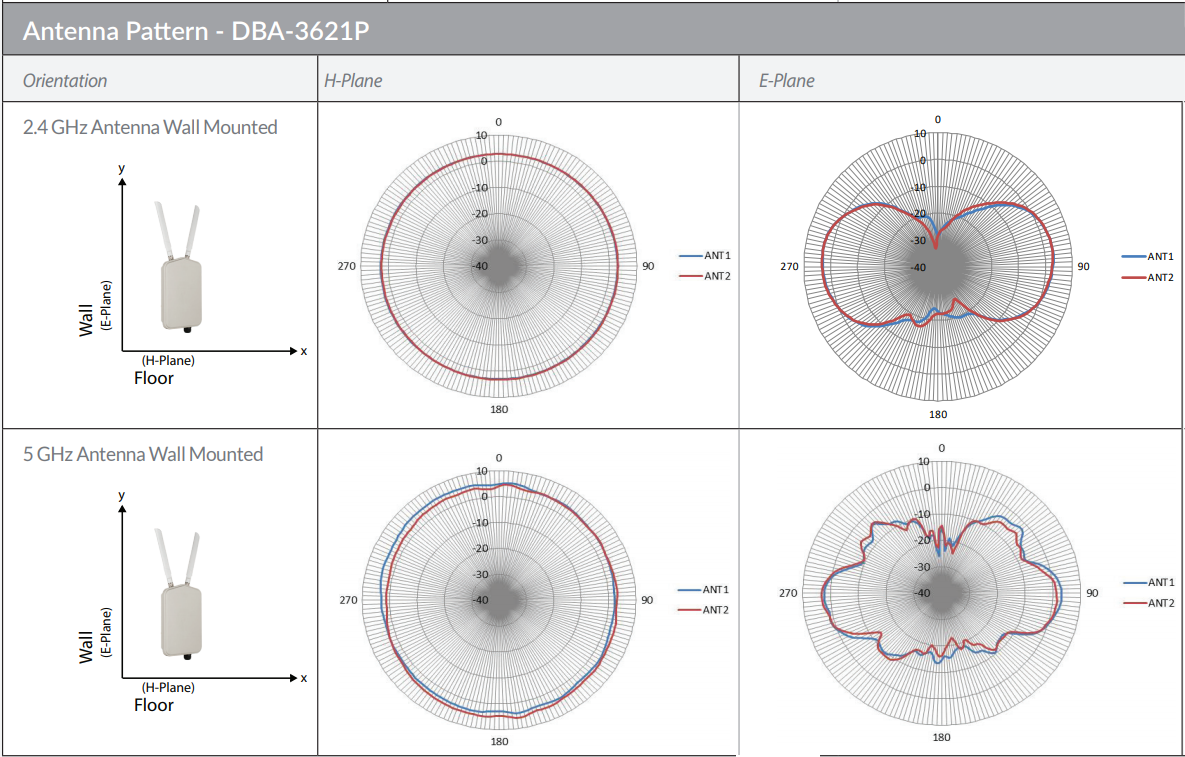 Pricing Notes:
Pricing and product availability subject to change without notice.
D-Link Products
D-Link Nuclias Business Cloud Access Points
Nuclias Cloud-Managed AC1300 Wave 2 Outdoor Access Point
#DBA-3621P
List Price:
$857.99
Our Price: $815.09
D-Link Nuclias Cloud Access Point Licenses
Nuclias Cloud Access Point License (1-Year)
#DBA-WW-Y1-LIC
List Price:
$69.99
Our Price: $66.49
Nuclias Cloud Access Point License (3-Year)
#DBA-WW-Y3-LIC
List Price:
$169.99
Our Price: $161.49
Nuclias Cloud Access Point License (5-Year)
#DBA-WW-Y5-LIC
List Price:
$249.99
Our Price: $237.49