D-Link DCS-2230

2 MP Full HD Cube PoE IP Camera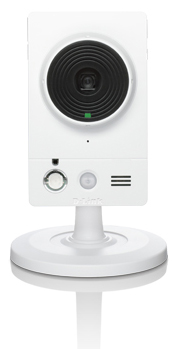 Sorry, this product is no longer available, please contact us for a replacement.
Overview:

The DCS-2210/2230 Full HD Cube Network Camera is a versatile surveillance solution that is perfect for monitoring low-light environments in your home or small office. It combines a high-resolution 2 Megapixel sensor with a built-in IR LED to help you keep watch over areas in complete darkness. The DCS-2210/2230 also includes a builtin mechanical IR cut filter, making it suitable for both day and night applications. The DCS-2230 features 802.11n wireless, allowing the camera to be placed anywhere within range of your wireless network. The DCS-2210/2230 also offers simple installation, an intuitive web-based interface, and remote monitoring and motion detection features for a complete and cost-effective home and business security solution.
Multiple Video Streams
The DCS-2230 supports multiple simultaneous videos streams, each with its own independent resolution, frame rate and compression (H.264, MPEG-4 or MJPEG).
Removable IR-Cut filter
The DCS-2230 comes with a mechanical IR Filter which can be manually applied via the web, or set to automatically adjust based on lighting conditions. This feature allows the camera to capture crisp color video during the day, and clear grayscale video in low light. The integrated infrared LED allows the camera to capture video in complete darkness.
Wireless N Connectivity
The Wireless N Technology on the DCS-2230 provides you with fast, reliable wireless connection so you can view the live video feeds from your camera anywhere, anytime. The Site Survey feature also allows you to view or connect to a nearby wireless network with ease. The DCS‑2210/2230 also includes a standard Ethernet port for connections to traditional wired networks.
Flexible Connectivity
The DCS-2230 includes 802.11n wireless for fast and easy integration into your existing network environment. The DCS-2230 also includes input and output ports that allow connectivity to external devices such as IR sensors, switches, and alarm relays.
ePTZ For Surveying Regions Of Interest
The ePTZ feature allows users to select a target region for close-up viewing simply by clicking on the video feed displayed within their browser. ePTZ makes use of the camera's 2 megapixel resolution to survey a large area effortlessly. Since ePTZ requires no moving parts, there is no need to worry about the camera having mechanical failures.
Easy to Configure and operate
This network camera supports the Universal Plug-n-Play feature, which allows computers running on Windows XP/Vista/7 to automatically recognize the camera and add it to the network.
D-ViewCam™ for Management
The included D-ViewCam™ IP camera surveillance software is a comprehensive surveillance system designed to centrally manage multiple IP cameras. Supporting up to 32 IP cameras, D-ViewCam™ is compatible with all current D-Link IP cameras and offers digital monitoring and recording capabilities of video, audio, and events for various security applications. The D-ViewCam™ software is included free of charge with the DCS-2210/DCS-2230.
Two-Way Audio
The integrated microphone and speaker in the DCS-2230 allow it to be used for two-way audio communication. The audio functionality can also be disabled.
Open Network Video Interface Forum (ONVIF)
ONVIF is an industry standard for the interface of IP based physical security products. The DCS-2230 is ONVIF-compliant and therefore interoperable with other manufacturer's products, such as ONVIF-compliant VMS (video management software).
Product Features:
2 Megapixel progressive CMOS sensor
Real-time H.264, MPEG-4, and Motion JPEG compression
Full HD resolution up to 1920 x 1080
Fixed lens 4.37 mm f2.0
Built-in mechanical IR cut filter for day/night surveillance
Built-in IR LED for no-light environments
Built-in PIR (Passive Infrared) sensor for accurate motion detection
Simultaneous multi-stream support
ePTZ
Integrated microphone & speaker
Privacy Mask feature
microSD Card slot
2-way audio support
1 digital input / 1 digital output
IEEE 802.11n
WPS
WEP / WPA / WPA2 wireless security
3GPP mobile surveillance
Built-in Samba client for NAS
ONVIF-compliant
Technical Specifications:
D-Link DCS-2230 Specifications
Camera
Hardware Profile

1/2.7" 2 Megapixel progressive CMOS sensor
IR Illumination distance: 5 m
Minimum illumination: 0 lux with IR illumination
Built-in Infrared-Cut Removable (ICR) filter module
Built-in PIR (Passive Infrared) sensor
10x digital zoom
Fixed length: 4.37 mm
Aperture: F2.0

Field of View
(H)67.4° / (V) 40.8° / (D) 75°
Image Features

Configurable image size, quality, frame rate, and bit rate
Time stamp and text overlays
Configurable motion detection windows
3 configurable privacy mask zones
Configurable white balance, shutter speed, brightness, saturation, contrast, and sharpness

Video Compression

H.264/MPEG-4/MJPEG simultaneous format compression
JPEG for still images
H.264/MPEG-4 multicast streaming

Video Resolution

16:9 - 1920 x 1080 (up to 15 fps), 1280 x 720, 800 x 450, 640 x 360, 480 x 270, 320 x 176, 176 x 144 up to 30 fps
4:3 - 1440 x 1080 (up to 15 fps), 1280 x 960, 1024 x 768, 800 x 600, 640 x 480, 320 x 240, 176 x 144 up to 30 fps

Audio Support

G.726
Built-in microphone and speaker

External Device Interface

10/100 BASE-TX Ethernet port
802.11n wireless
1 DI / 1 DO
microSD card slot

Network
Network Protocols

IPv4
TCP/IP
UDP
ICMP
DHCP Client
NTP Client (D-Link)
DNS Client
DDNS Client (D-Link)
SMTP Client
FTP Client
HTTP / HTTPS
Samba Client
PPPoE
UPnP Port Forwarding
RTP / RTSP/ RTCP
IP filtering
3GPP
IGMP
ONVIF-Compliant

Security

Administrator and user group protection
Password authentication
HTTP and RTSP digest encryption

System Management
System Requirements for Web Interface

Operating System: Windows® 7, Windows Vista®, Windows® XP, Windows® 2000
Browser: Internet Explorer, Mozilla Firefox, Netscape, Opera

Event Management

Motion detection
PIR motion detection
Event notification and upload snapshots/video clips via HTTP, SMTP, or FTP
Supports multiple HTTP, SMTP, and FTP servers
Multiple event notifications
Multiple recording methods for easy backup

Remote Management

Configuration accessible via web browser
Take snapshots/video clips and save to local hard drive or NAS via web browser

D-ViewCam™ System Requirements

Operating System: Microsoft Windows 7/Vista/XP
Web Browser: Internet Explorer 6 or higher
Protocol: Standard TCP/IP

D-ViewCam™ Software Functions

Remote management/control of up to 32 cameras
Viewing of up to 32 cameras on one screen
Supports all management functions provided in web interface
Scheduled motion triggered or manual recording options

General Specifications
Power Input
12V DC 1.2 A, 50/60 Hz
Max. Power Consumption
4.0 watts
Environment
Indoor Use Only
Operating Temperature
32 to 104° F (0° to 40° C)
Storage Temperature
-4° to 158° F (-20° to 70° C)
Humidity
20% to 80% non-condensing
Weight
0.16lbs (75 grams)
Dimensions
Width: 2.3" (58mm)
Height: 3.25" (95mm)
Depth: 1.5" (38.7mm)
Certifications

CE
LVD (EN60965-1)
FCC (Class B)
C-Tick

Warranty
1-Year Limited1
1
1-Year Limited Warranty available only in the USA and Canada.
Product Views:
| | |
| --- | --- |
| | |
| D-Link DCS-2230 Front View | D-Link DCS-2230 Back View |
| | |
| D-Link DCS-2230 Right View | D-Link DCS-2230 Left View |
D-ViewCam 2.0 Network Camera Surveillance Software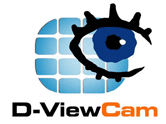 Remotely Protect Your Home and Office with D-Link Surveillance Solutions
D-ViewCam 2.0 network camera surveillance software, included in all D-Link network cameras, is a comprehensive surveillance system designed to centrally manage multiple network cameras for home, Small Office and Home Office (SOHO), or Small and Medium Business (SMB) users.
Supporting up to 32 network cameras, D-ViewCam 2.0 is compatible with all current D-Link network cameras, offering digital monitoring and recording capabilities of video, audio, and events for various security applications. This software provides users with a wide array of features for added convenience, including video recording and playback, Video mode, Map mode, Wizard mode, Expert mode, Event Action, and more, offering users powerful surveillance software that's easy to use.
Existing D-Link network camera owners can download the newest D-ViewCam version from the D-Link support site by examining the available downloads for their particular camera part number.
Feature summary:
View and manage up to 32 cameras on a single screen easily and hassle free
Record and playback detailed video monitoring
Control and configure the cameras from any location that has Internet or private network connectivity
More efficient and cost-effective security management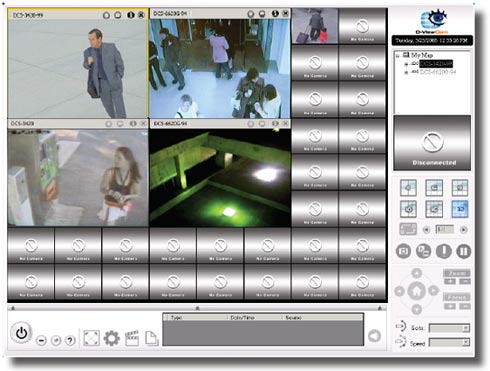 Remotely view and manage up to 32 cameras with D-ViewCam 2.0 software.