D-Link DCS-3716

Full HD 3MP WDR Box IP Camera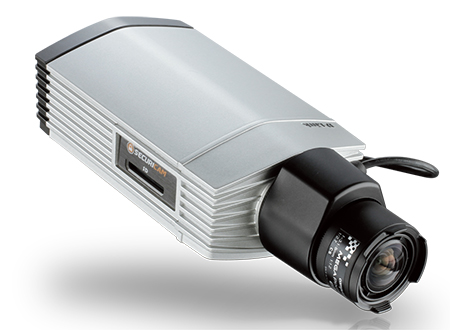 Sorry, this product is no longer available, please contact us for a replacement.
Overview:
High Resolution Surveillance
The D-Link® 3 Megapixel Day & Night Network Camera (DCS-3716) is a high-end megapixel network camera equipped with a Sony Exmor 1/2.8", 3 Megapixel WDR Progressive Scan CMOS sensor, and a 3.1- 8 mm DC auto iris lens. The DCS-3716 captures video in both dark and light environments, or even subjects shot against a backlight by neutralizing imperfect lighting and generating a realistic image. In addition, the removable IR-cut filter for day/night functionality provides clear detail and high quality video at any point during the day or night. The DCS-3716 incorporates Power over Ethernet (PoE) which allows for easy installation in a variety of locations, an SD card slot for local video recording, and ePTZ for virtual Pan/Tilt/Zoom operation.
Wide Dynamic Range (WDR) Applications
The Wide Dynamic Range (WDR) function provides clear images even under backlit conditions where the intensity of illumination can vary significantly, making the DCS- 3716 perfect for extreme high-contrast environments. For example, when placed indoors, the DCS-3716 adjusts itself to intense sunlight that may be streaming in through windows in the background. This makes it an ideal solution for lobbies, retail stores and warehouse shipping bays.
Flexible Connectivity
The DCS-3716 includes input and output ports allowing connectivity to external devices such as IR sensors, switches, and alarm relays. It also comes with an RS-485 interface, providing connectivity to an optional pan/ til enclosure which effectively adds pan/tilt functionality to the DCS-3716. An additional 12V interface provides power for an optional LED illuminator.
D-ViewCam™ for Management
The included D-ViewCam™ IP camera surveillance software is a comprehensive surveillance system designed to centrally manage multiple IP cameras. Supporting up to 32 IP cameras, D-ViewCam™ is compatible with all current D-Link IP cameras and offers digital monitoring and recording capabilities of video, audio, and events for various security applications. The D-ViewCam™ software is included free of charge with the DCS-3716.
Open Network Video Interface Forum (ONVIF)
ONVIF is an open industry forum for the development of a global standard for the interface of IP based physical security products. ONVIF identifies a standard for how IP products within video surveillance and other physical security areas can communicate with each other ensuring interoperability between products regardless of brand. The DCS-3716 is ONVIF-Compliant and therefore compatible with many third party Video Management Software (VMS) solutions.
Multiple Video Streams
The DCS-3716 supports simultaneous streaming of H.264, MPEG-4, and MJPEG video to provide both high-quality and bandwidth-efficient compression formats. MJPEG delivers excellent file integrity, ideal for situations which require high image detail. H.264 and MPEG-4 consumes less bandwidth and storage, useful for megapixel video, extended recording or for use in low-bandwidth networks.
Features
Sony Exmor 1/2.8"3 Megapixel CMOS Progressive Image Sensor
FullHDResolution (1920x1080) up to 3 Megapixel (2048x1536)
Multi-Megapixel Auto IrisVarifocal Lens (3.1- 8mm, f1.2)
Built-in Mechanical IR Cut FilterforDay/Night Surveillance
WideDynamic Range (WDR)
Simultaneous Multi-Stream Support
Privacy Mask Feature
SDCard Slot
2-Way Audio Support
2 Alarm Inputs/ 1 Alarm Output
Power over Ethernet(PoE)
3GPP Mobile Surveillance
Built-in Samba ClientforNAS
ONVIF-Compliant
Analog BNCOutput
RS-485 Interface forIntegration with Pan/Tilt Units
Technical Specifications:
D-Link DCS-3716 Specifications
Hardware Profile

Sony Exmor 1/2.8"3 Megapixel CMOS sensor
Minimum Illumination: 0.5 lux (Color); 0.05 lux (B/W)
WDR S/N Ratio : 100 dB
LensVarifocal Range: 3.1 to 8.0 mm
Lens Aperture: F1.2
Built-in Infrared-Cut Removable (ICR) Filter module

Angle of View
Horizontal: 95.9° to 38.7° /Vertical: 71.0° to 29.1°
Image Features

Configurable image size, quality, frame rate, and bit rate
Time stamp and text overlays
Configurable motion detection windows
Time stamp and text overlays
3 Configurable privacy masks zone
ConfigurableWDR, white balance, shutter speed, brightness, saturation, contrast, sharpness

Video Compression

H.264/MPEG4/MJPEG compression (simultaneous operation)
JPEG forstill images

Video Resolution

16:9 - (1920 x 1080), (1280 x 720), (800 x 450), (640 x 360), (480 x 270), (320 x 176), (176 x 144)
4:3 - (2048 x 1536), (1600 x 1200), (1024 x 768), (800 x 600), (640 x 480), (480 x 360), (320 x 240), (176 x 144)
3M (2048x1536) resolution up to 15 fps, and other resolutionssupport frame rates up to 30 fps

Audio Support
G.726
External Device Interface

2 Digital Inputs/ 1 DigitalOutput
12V DC, 200 mAOutput
RS-485
SD Card
Audio Input /Output
AnalogVideoOutput (BNC)

Network
Network Protocols

IPv4
TCP/IP
UDP
ICMP
DHCP Client
NTP Client (D-Link)
DNS Client
DDNS Client (D-Link)
SMTP Client
FTP Client
HTTP / HTTPS
Samba Client
PPPoE
UPnP Port Forwarding
RTP / RTSP/ RTCP
IP filtering
3GPP
CoS/QoS
IGMP
ONVIF-Compliant

Security

Administrator and user group protection
Password authentication
HTTP and RTSP digest encryption

System Management
System Requirements for Web Interface

Operating System:

Windows® 7, Windows Vista®, Windows® XP, Windows® 2000

Browser:

Internet Explorer, Mozilla Firefox, Netscape, Opera

D-ViewCam™ System Requirements

Operating System:

Windows® 7, Windows Vista®, Windows® XP

Web Browser: Internet Explorer 6 or higher
Protocol: StandardTCP/IP

Event Management

Motion detection
Event notification and upload snapshots/video clips via HTTP, SMTP or FTP
Supports multiple HTTP, SMTP and FTP servers
Multiple event notification
Multiple recording methodsfor easy backup

Remote Management

Configuration accessible via web browser
Take snapshots/video clips and save to local hard drive or NAS via web browser

D-ViewCam™ Software Functions

Remote management control of up to 32 cameras
Scheduled motion triggered, or manual recording options
Supports all management functions provided in web interface
Viewing of up to 32 cameras on one screen

General Specifications
Power Input
12V DC 1.25 A, 50/60 Hz, 802.3af PoE
Max. Power Consumption
4watts
Operating Temperature
32 to 104° F (0° to 40°C)
Storage Temperature
-4° to 158° F (0° to 40°C)
Humidity
20% to 80% non-condensing
Weight
20.45 ounces(580 grams)
Certifications

CE (Class A)C
E LVD (EN60965-1)
FCC (Class A),
ICES-003,
C-Tick

Dimensions

Length (with Lens): 7.52"(190.9mm)
Length (w/o Lens): 5.35"(135.9mm)
Width 3.14"(79.7mm)
Heigth: 2.08"(52.9mm)

Warranty
Warranty
5-Year Warranty1
1
5-YearWarranty available only in the USA.
All references to speed are for comparison purposes only. Product specifications, size and shape are subject to change without notice, and actual product appearance may differ from that depicted herein.