D-Link DCS-4603

Vigilance Full HD PoE Dome Network Camera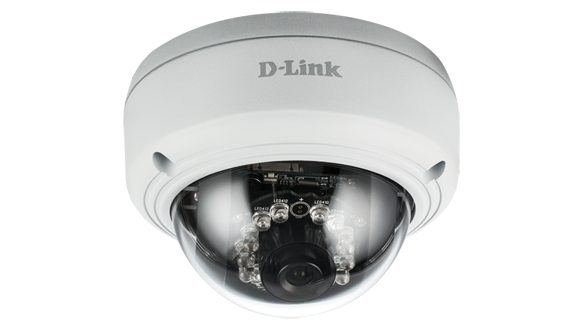 Sorry, this product is no longer available, Please contact us for a replacement.
Click here to jump to more pricing!
Overview:
The D-Link DCS-4603 Vigilance Full HD PoE Dome Network Camera is a high definition professional indoor surveillance and security solution suitable for small, medium, and large enterprises. The camera uses a high-sensitivity 1/3" 3-megapixel progressive scan CMOS sensor with digital WDR image enhancement to deliver balanced video in varying lighting conditions. The compact design makes this camera ideal for deployment in a wide variety of surveillance applications. The unique design with 3-axis adjustment allows for precise positioning of the lens, supporting 340° Pan, 340° Rotation, and 60° Tilt.
Full HD Resolution
A high-resolution 3-megapixel sensor provides 1080p resolution while digital wide dynamic range (WDR) technology lets you capture the details you need, ensuring that you always get sharp, clear snapshots and videos.
Complete Day & Night Surveillance Solution
Keep watch over an area 24 hours a day - integrated IR LEDs and automatic IR cut filter provide clear video, even in complete darkness.
Incredibly Versatile
Supports Power over Ethernet (PoE) for power and data through a single cable.
High Quality Streaming & Recording
To maximize bandwidth efficiency and improve image quality, the DCS-4603 provides realtime video compression using the H.264 and MJPEG codecs, and supports separate profiles for simultaneous video streaming and recording. This versatility enables a wide variety of security applications, such as monitoring public areas to detect incidents and to coordinate responses, enforcing access control to restricted areas, deterring criminal activity, or monitoring inventory.
Continuous Monitoring
The DCS-4603's digital wide dynamic range (WDR) video enhancement gives you improved image quality in environments with uneven or difficult lighting, so you can identify subjects that are backlit or in brightly lit areas. In low-light situations, the IR cut filter automatically slides out of the way to use all available light while the 3D noise reduction feature improves the image quality and compression savings by dramatically reducing noise. The DCS-4603 also has built-in IR LED illuminators with a 32 foot range, allowing the camera to keep watch even in complete darkness. These features work together to give you a reliable surveillance camera capable of monitoring an area 24 hours a day.
D-ViewCam for Management
The DCS-4603 Vigilance Full HD PoE Dome Network Camera includes D-ViewCam, a complete surveillance software package that enables you to view, manage, and record from up to 32 cameras with a robust set of features, including multi-camera views and automated e-mail alerts to keep you informed of suspicious or unusual activities.
Features:
Camera
1/3" 3 megapixel progressive CMOS sensor
Full HD resolution (2048 x 1536)
Fixed 2.8 mm lens, F2.0
Video
Motion detection
Digital Wide Dynamic Range (WDR)
3D noise filter
H.264 and MJPEG compression
Multi-stream support
ePTZ for virtual PTZ operation
Privacy mask
Advanced event management
Versatile Installation
3-axis adjustment allows for precise positioning of lens
Compatible with additional wall (DCS-37-1) and ceiling (DCS-37-2) mounts
Connectivity
Power over Ethernet (PoE) provides easy and flexible integration into your network
Supports 802.3x, QoS, CoS and SNMP
HTTPS encryption for web access
ONVIF compliant
Technical Specifications:
D-Link DCS-4603 Specifications
Camera
Hardware Profile

1/3" 3 Megapixel Progressive CMOS Sensor
32 ft IR Illumination Distance
Automatic Infrared-Cut Filter module for night viewing
10x digital zoom
Minimum object distance: 8"
Focal length: 2.8mm
Aperture F2.0
Angle of view
Adjustment angle (non-motorized)

Pan: 340°
Tilt:  60°
Rotation: 340°

Image Features

Configurable image size, quality, frame rate, and bit rate
Time stamp and text overlays
Configurable motion detection windows
Configurable privacy mask zones
Configurable shutter speed, brightness, saturation, contrast, sharpness, digital WDR and 3D filter

Video Compression

Simultaneous H.264/MJPEG triple format compression
H.264 multicast streaming
JPEG for still images
MJPEG streaming

Video Resolution

16:9 - 1920 x 1080, 1280 x 720, 800 x 448, 640 x 360
4:3 - 1440 x 1080, 1280 x 960, 900 x 720, 800 x 592, 640 x 480 at up to 30 fps2
4:3 - 2048 x 1536 at up to 15 fps2

Frame Rate

Up to 30 fps
Up to 15 fps = 4:3 - 2048 x 1536

External Device Interface

10/100 BASE-TX Ethernet port with PoE (802.3af)
Optional 12VDC input jack

Network
Network Protocols

IPv6, IPv4, ARP, TCP, UDP, ICMP
DHCP client
NTP client (D-Link)
DNS client
DDNS client (D-Link)
SMTP client (SSMTP support)
FTP client
HTTP/HTTPS
Samba client
PPPoE
UPnP/UPnP port forwarding
RTP/RTSP/RTCP
IP filtering
CoS/QoS/DSCP
Multicast
SNMP
Bonjour
ONVIF compliant

Security

Administrator and user group protection
Password authentication
HTTP and RTSP digest encryption

System Management
System Requirements for Web Interface

Browser: Internet Explorer 8 or above, Firefox or Safari
Operating System: Microsoft Windows 10/8/7 or Mac OS XS 10.7 or higher   

Event Management

Motion detection
Event notification and uploading of snapshots/video clips via e-mail or FTP
Supports multiple SMTP and FTP servers
Multiple event notifications
Multiple recording methods for easy backup

Remote Management

Take snapshots/video clips and save to local hard drive
Configuration interface accessible via web browser

D-ViewCam System Requirements

Operating System: Microsoft Windows 8/7
Web Browser: Internet Explorer 7 or higher
Protocol: Standard TCP/IP

D-ViewCam Software Functions

Remote management/control of up to 32 cameras
Supports all management functions provided in web interface
Viewing of up to 32 cameras on one screen
Scheduled motion triggered, or manual recording options

General Specifications
Weight
1.16 lbs
Power over Ethernet
802.3af Class 2
Power Adapter (not included)

Input: 100 to 240V AC, 50/60 Hz
Output: 12V DC 1.5A

Power Consumption
5.6 Watts ±5%
Operating Temperature
32°F to 104°F (0°C to 40° C)
Storage Temperature
-4°F to 158° F (-20°C to 70°C)
Operating Humidity
20% to 80% non-condensing
Storage Humidity
5% to 95% non-condensing
Certifications
Dimensions
4.36 x 4.36 x 3.10 inches
Package Contents

Full HD PoE Dome Network Camera (DCS-4603)
Mounting Kit
Quick Installation Guide (QIG)
Manual & Software CD-ROM

Warranty
Warranty

5-Year Limited Warranty4
For warranty and regulatory information, please visit http://support.dlink.com/warranty
1 Use of video equipment for recording the image of a person without their knowledge and consent is prohibited in certain states or jurisdictions. The end-user assumes all liability for compliance with applicable state, local and federal laws.
2 Frame rates when streaming video may vary depending on network conditions and method used.
3 Computer must adhere to Microsoft's recommended system requirements.
4 5-YearWarranty available only in the USA.
Pricing Notes:
Pricing and product availability subject to change without notice.