D-Link DCS-6010L

2MP 360 Degree IP Camera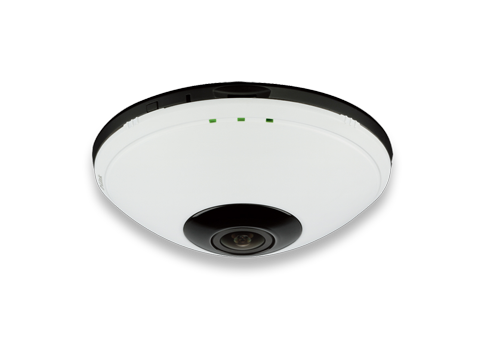 Sorry, this product is no longer available, please contact us for a replacement.
Overview:
The D-Link Cloud Camera 6100 (DCS-6010L) is a 360° HD Megapixel Network Camera. With 360° of Surround View coverage, the Cloud Camera 6100 does the work of multiple cameras in one sleek, versatile package.
See More of What You Value with 360º Surround View
The D-Link DCS-6010L is equipped with a fisheye lens for both 180° panoramic view and 360° surround view modes, giving you complete vision of your business, home or office. With the latest cutting-edge image processing, images captured from the fisheye camera can be converted into multi-panel rectilinear projection for the ultimate in business and home surveillance. And with ultra-smooth digital pan/tilt and zoom functionality, you can easily keep an eye on what you value most.
2 Megapixel for Superior Image Quality
The Cloud Camera 6100 delivers the confidence of 2 Megapixel video clarity, ensuring rich detail and crisp image quality for your surveillance recording.
Industry-Leading Remote Viewing with mydlink
With the free mydlink Lite app, you can monitor your home or business on your iPhone, iPad or Android device and experience the peace of mind that comesfrom having roundthe-clock surveillance at your fingertips. Check in on your home while you're at work, or monitor on your business when you're out of the office – with mydlink, you can keep an eye on what matters, whenever and wherever you want.
D-ViewCam – Your Personal Surveillance System
With D-Link's free D-ViewCam software, you can monitor and manage up to 32 network cameras, all from a single computer screen. Quickly and easily turn your network into a full-fledged, personal surveillance system that gives you the ultimate performance in home or small-business monitoring and protection. Plus, with D-ViewCam, you can automatically record and playback video at your own convenience.
E-mail alerts
Motion detection
Scheduled recordings
Make Easy Setup Even Easier – With Zero Configuration
Connecting your D-Link camera with any router is easy – make it even easier with your D-Link Cloud Router. Zero Configuration automatically configures and intelligently syncs your D-Link camera to your mydlink account – it's as easy as connect and view!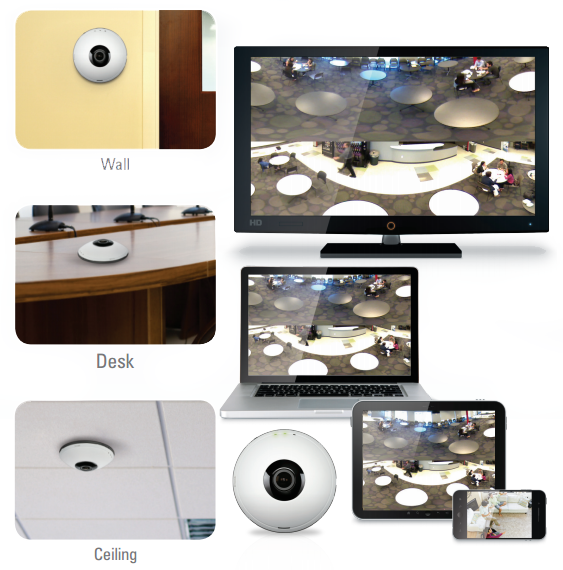 Features:
Remotely monitor your home or office over the Internet
Equipped with a panoramic (fisheye) lensfor 180° panoramic view (wall mount) or 360° surround view (ceiling mount)
Wireless 802.11n Compliant withWi-Fi Protected (WPS) Button
2 Megapixelresolution 1600x1200
Bulit-in Mic and Speaker
SupportsH.264/MJPEG/MPEG-4Video Codecs
microSD/SDHC Card Slotfor Local Recording
MotionDetection toTrigger Recording and Send E-mail Alerts
Supports ePTZ
SupportforiPhone, iPad & Android App
mydlink.com Portalfor EasyViewing and Management
Administrator/User Password Protection
UPnP SupportforNetwork Setup & Configuration
24/7 Basic Installation Support
1-Year LimitedWarranty
Technical Specifications:
D-Link DCS-6010L Specifications
Camera
Hardware Profile

1/3.2" 2 megapixel progressive CMOS sensor
Minimum illumination: 2 lux
Built-in microphone and speaker
10x digital zoom
Focal length: 1.25 mm
Aperture: F2.0

Field of View

(H) 180°
(V) 180°
(D) 180°

Image Features

Configurable image size, quality, frame rate, and bit rate
Fisheye distortion correction
Time stamp and text overlays
Configurable brightness, saturation, contrast,and sharpness
Configurable motion detection windows

Video Compression

H.264/MPEG-4/MJPEG simultaneous format compression
H.264/MPEG-4 multicast streaming
JPEG for still images

Video Resolution
1600 x 1200, 1200 x 900, 800 x 600, 400 x 300 up to 15 fps recording1
Audio Support
External Device Interface

10/100 BASE-TX Fast Ethernet port
802.11n wireless
MicroSD/SDHC card slot

Network
Network Protocols

IPv6
IPv4
TCP/IP
UDP
ICMP
DHCP client
NTP client (D-Link)
DNS client
DDNS client (D-Link)
SMTP client
FTP client
HTTP / HTTPS
Samba client
PPPoE
UPnP port forwarding
RTP / RTSP/ RTCP
IP filtering
QoS
CoS
Multicast
IGMP
ONVIF compliant

Security

Administrator and user group protection
Password authentication
HTTP and RTSP digest encryption

System Management
System Requirements for Web Interface
Browser: Internet Explorer, Mozilla Firefox, or Google Chrome
Event Management

Motion detection
Event notification and uploading ofsnapshots/video clips via e-mail or FTP
Supports multiple SMTP and FTP servers
Multiple event notifications
Multiple recording methodsfor eas

Remote Management

Configuration accessible via web browser
Take snapshots/video clips and save to local hard drive or NAS via web browser

Mobile Support

Windows 7/Vista/XP system, Pocket PC, or mobile phone
mydlink mobile app for iOS and Android mobile devices

D-ViewCam System Requirements

Operating System: MicrosoftWindows 7/Vista/XP
Web Browser: Internet Explorer 7 or higher
Protocol: StandardTCP/IP

Surveillance Software Function

Remote management/control of up to 32 cameras
Viewing of up to 32 cameras on one screen
Supports all management functions provided in web interface
Scheduled motion triggered, or manual recording options

General Specifications
Max. Power Consumption
3.9 watts
Operating Temperature
32° to 104° F (0° to 40° C)
Storage Temperature
-4° to 158° F (-20° to 70° C)
Operating Humidity
20% to 80% non-condensing
Storage Humidity
5% to 95% non-condensing
Certifications
Weight
8.32oz (235 grams)
Dimensions
ø 5.28" x 1.96" (ø 134.2mm x 49.8mm)
Warranty
Warranty
1-Year Warranty
1 Frame rates when streaming video may vary depending on network conditions and method used.