D-Link DEM-311GT

1000BASE-SX Mini Gigabit Interface Converter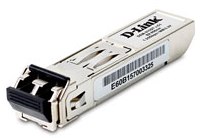 D-Link Products
D-Link Switch Accessories
1000BASE-SX Multimode SFP Optical Transceiver, 0 to 70C
#DEM-311GT
List Price:
$27.99
Our Price: $26.59
The D-Link® line of Small Form-Factor Pluggable (SFP) transceivers represent an industry-leading combination of performance and affordability. Both Gigabit transceivers are available in two form-factors: standard (GBIC) or (SFP)/mini GBIC. These units feature a metal housing to reduce EMI and to increase durability. They are hot-pluggable and backed by a standard 2-year limited warranty and free technical support.
Functions:
LC Port Types
Full Duplex 802.3x Flow Control
Wave length: 850nm/1310nm
Wave length: 850nm/1310nm
Standard compliant
Metal Enclosure Reduces EMI
Hot Pluggable
Support Information:
Free Technical Support
2-Year Limited Warranty1
Extended Support Options Available
Multi-Vendor Device Support
Product
Voltage
Connector
62.5μ
50.0μ
5μ
DEM-310GT
1000BASE-LX SFP, Up to 10km
3.3V
LC
550m
550m
10km
DEM-311GT
1000BASE-SX SFP, 220/550m
3.3V
LC
220m
550m
-
Technical Specifications
Product Specifications
Optical Receiver Sensitivity
DEM-310GT: -20dBm (maximum)
DEM-311GT: -18dBm (maximum)
Interface Options
Connector Type
LC
Operational Ranges
Supply Voltage
3.1 ~ 3.5V
Maximum Voltage
6.0V
Maximum Current
300mA
Safety Certifications and Environmental Information
Class 1 Laser
EN 60825-1
FDA 21
1040.10 & 1040.11
Physical Specifications
Dimensions (W x D x H)
0.53in x 2.22in x 0.41in (13.4mm x 56.4mm x 10.35mm)
Warranty and Support
Warranty
2 Year Limited Warranty1
Support
Free Technical Support
1 Available in the USA and Canada only
Download the D-Link DEM-310GT Datasheet (PDF).
Pricing Notes:
Pricing and product availability subject to change without notice.
D-Link Products
D-Link Switch Accessories
1000BASE-SX Multimode SFP Optical Transceiver, 0 to 70C
#DEM-311GT
List Price:
$27.99
Our Price: $26.59