D-Link 10Gbps SFP+ Transceivers

IO Gigabit Ethernet speeds for fast transfer of large amounts of data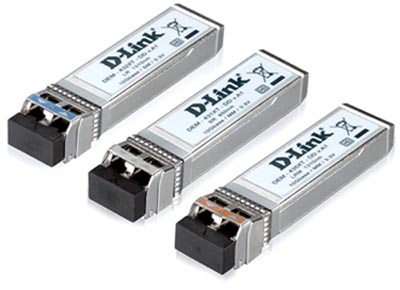 D-Link Products
D-Link Network and Switch Accessories
10GBASE-LR Single-mode SFP+ Optical Transceiver, 0 to 70C
#DEM-432XT
List Price:
$147.99
Our Price: $140.59
Click here to jump to more pricing!
Overview:
D-Link's 10G SFP+ Module series are hot-swappable SFP+ transceivers that plug into SFP+ slots on switches and support 10G Ethernet. The D-Link 10GBASE SFP+ Module Series transceivers offer customers a wide variety of 10G Ethernet connectivity options for data centers, enterprise wiring closets, and service provider transport applications.
Enhanced Small Form-factor Pluggable Format D-Link's DGS-150
The transceivers use the Enhanced Small Formfactor Pluggable format (SFP+). The SFP+ form factor is smaller than other form factors such as Xenpak, X2, and 10G XFP; ensuring lower costs, lower power disruption, and higher port density. They provide the necessary signal amplification for data to be transmitted to the network cable from the port, and vice versa, for the port to receive data from the network cable.
10G Ethernet speeds
The transceivers all support 10G Ethernet, which results in very fast data transmissions of up to 10Gbit/s. This is 10 times faster than Gigabit Ethernet and enables the switch to handle faster and higher data transmissions, making it very suitable for business needs.
Hot Pluggable
All D-Link transceivers are hot-pluggable. You can connect a transceiver while the system is powered on without causing any problems. This permits modules to be added or removed without interrupting the network.
Digital Diagnostics Monitoring (DDM)
The 10G SFP+ Modules feature DDM ,realtime monitoring of critical parameters, including transmitted and received power, temperature, and voltage. This allows for convenient monitoring of the module's fiber connection and early detection of problems.
Product Features
Enhanced Small Form-Pluggable (SFP+) form factor
Hot pluggable
Support 10G Ethernet
Feature Digital Diagnostics Monitoring (DDM)
RoHS Compliant
Compliant with MSA (Multiple Source Agreement)
Compliant with IEEE802.3ae and 802.3aq standards
Technical Specifications:
DEM-431XT-DD
DEM-432XT-DD
DEM-435XT-DD
Standard
Standards

IEEE-802.3ae
IEEE-802.3aq
10GBASE-LRM

Form Factor Type
SFP+
Fibre Channel FC-PI Standard
1200-Mx-SN-I
1200-SM-LL-L
N/A
Fiber Media Support
Multi-Mode
Single-Mode
Distance Capacity

62.5 μm, 160 MHz-km: 26m
62.5 μm, OM1 200 MHz-km: 33m
50 μm, 400 MHz-km: 66m
50 μm, OM2 500 MHz-km: 82m
50 μm, OM3 2000 MHz-km: 300m

10 km

62.5 μm, 160MHz-km: 220 m
62.5 μm, OM1, 200MHz-km: 220m
50 μm, 400MHz-km: 100m
50 μm, OM2, 500MHz-km: 220m
50 μm, OM3, 2000MHz-km: 220 m

Features
Hot Pluggable
Yes
MSA Compliant
Yes
RoHS Compliant
Yes
MAC Address Update
Yes
DDM (Digital Diagnostics Monitoring)
Yes
Speed
Speed
10 Gbps
Interface
Connector
Duplex LC Connector
Single/Bi-Directional
Single Direction
Wavelength

850nm

1310nm
Output Optical Power (TX Optical Power)
Max.: -1 dBm
Min.: -5 dBm
Max.: 0.5 dBm
Min.: -8.2 dBm
Max.: 1.5 dBm
Min.: -4.5 dBm
Input Optical Power (RX Optical Power)
Max.: 0.5 dBm
Min.: -11.1 dBm
Max.: 0.5 dBm
Min.: -12.6 dBm
Max.: 1.5 dBm
Min.: -6.5 dBM
Sensitivity
-11.1 dBm
-12.6 dBm
-6.5 dBm
Cable Type
Multi-mode 50/125 μm or
62.5/125 μm fiber
Single-mode 9/125 μm fiber
Multi-mode 50/125 μm
62.5/125 μm fiber
Operating
Power
3.3 V
Maximum Input Current
250 mA
285 mA
300 mA
Minimum Power Budget
6.1 dB
4.4 dB
2 dB
Maximum Power Budget
10.1 dB
17.6 dB
8 dB
Heat Generated
2.9 kJ/h
3.4 kJ/h
3.6 kJ/h
Reliability
MTBF (Hours)
5,948,000
3,390,000
4,140,00
Physical and Environment
Operating Temperature
0 to 70 °C
-5 to 70 °C
Storage Temperature
-40 to 85 °C
Operating Humidity
0 to 85%
Storage Humidity
0 to 85%
Weight
0.05 lbs (22g)
Dimensions (W x D x H)
0.58 x 2.22 x 0.47 inches
(14.8 x 56.5 x 11.85 mm)
Compliant with SFF8432
Bail Latch Color
Beige
Blue
Brown
Certifications
FCC Class A,CE Class A, ICES-003, VCCI Class A ,C-Tick, BSMI
Emission(EMI) and Safety
EMI
CE, FCC, VCCI
Safety
CSA, TUV, CDRH
QR Codes
Scan Code for more Information
Pricing Notes:
Pricing and product availability subject to change without notice.
D-Link Products
D-Link Network and Switch Accessories
10GBASE-LR Single-mode SFP+ Optical Transceiver, 0 to 70C
#DEM-432XT
List Price:
$147.99
Our Price: $140.59