D-Link DES-1210-28

28-Port Fast Ethernet WebSmart Switch, including 2 Gigabit BASE-T and 2 Gigabit Combo BASE-T/SFP

Sorry, this product is no longer available, Please contact us for a replacement.
Click here to jump to more pricing!
Overview:
The DES-1210 Series is the latest generation of D-Link® 10/100 Web Smart Switches featuring D-Link Green 3.0 technology. The switches comply with the IEEE 802.3az Energy Efficient Ethernet standard. Support for IPv6 management and configuration features ensures your network remains protected after an upgrade from IPv4 to IPv6. By offering multiple management options, these switches allow quick deployment, infrastructure expansion, and seamless upgrades. Targeting small and medium sized businesses, the DES-1210 Web Smart switches provide functionality, security, and manageability for a fraction of the standard cost of ownership.
The DES-1210 Series switches support 24 or 48 10/100BASE-TX ports. In addition, each switch supports 4 Gigabit ports – two are dedicated 10/100/1000Mbps copper (RJ45), while the other two are Gigabit "combo" ports and can be used for either copper (RJ45) or SFP optical.
PoE Support
One model in the DES-1210 series family, the DES-1210-28P, delivers Power-over-Ethernet capabilities, simplifying deployments with IP cameras, VoIP phones, wireless access points, and other powered devices. It supports 802.3at on its first four ports (30W max per port) and supports 802.3af on ports 5 through 24 (15.4W max. per port.) Its total power budget is 193W. Using the product's management interface, an administrator can control various PoE functions, such as remotely rebooting cameras or access points, from anywhere on the network, including over the Internet. The switches also support time-based PoE – an option that allows administrators to set a time window that determines when each port's PoE power is turned on and off.
Energy Saving
The DES-1210 Series Switches are capable of conserving power without sacrificing operational performance or functionality by using D-Link Green 3.0 technology. Using the Energy Efficient Ethernet standard, the network will automatically decrease the power usage when traffic is low with no setup required. For environments not fully supporting the standard, these switches offer advanced power-saving settings including port shutoff and standby, LED shutoff, and system hibernation based on custom time profiles. The time profiles can also be applied to the PoE switches so that unnecessary power consumption can be saved during off hours. The switches can also detect the length of connected cables to automatically reduce power usage on shorter cable connections.
Easy Management
The D-Link Web Smart Switch series is designed for easy management. All configurations can be made through a Web interface regardless of the host PC's operating system. Furthermore, the web UI contains ten language options to make operations more straightforward. In the intial installation, the D-Link Network Assistant Utility will automatically discover all D-Link Smart switches in the network, allowing administrators to assign IP addresses and subnet masks quickly. It also allows simultaneous firmware upgrades to multiple switches, saving a great deal of time. Important management commands, such as download firmware or configuration file, can be completed using batch operations for multiple switches.
Auto Surveillance VLAN and Voice VLAN
The D-Link Web Smart series automates the process of setting up IP surveillance and VoIP devices on a network. Auto Surveillance VLAN consolidates data and surveillance video transmission through the network, sparing businesses the expense of maintaining dedicated facilities. ASV also protects the quality of realtime video by grouping IP surveillance devices on a single high priority VLAN. This ensures that surveillance video streams will not be affected when ordinary data traffic is at a high level. Similarly, the Auto Voice VLAN guarantees clear quality and efficient transmission for all voice communication.
Extensive Layer 2 Features
Equipped with a complete lineup of L2 features, these switches include IGMP Snooping, Port Mirroring, Spanning Tree, and Link Aggregation Control Protocol (LACP). The IEEE 802.3x Flow Control function allows servers to directly connect to the switch for fast, reliable data transfer. At 2000 Mbps Full Duplex, the Gigabit ports provide high-speed data pipes to servers with minimum data transfer loss. Network maintenance features include Loopback Detection and Cable Diagnostics. Loopback Detection is used to detect loops created by a specific port and automatically shut down the affected port. The Cable Diagnostic feature designed primarily for administrators and customer service representatives, can rapidly discover the type of error and determine the cable quality.
Secure your Network
D-Link's innovative Safeguard Engine® protects the switches against traffic flooding caused by virus attacks. The switches also support 802.1X port-based authentication, allowing the network clients to be authenticated through external RADIUS servers. In addition, the Access Control List (ACL) feature enhances network security and protects the network by screening traffic from illegal MAC or IP addresses. ARP Spoofing Prevention prevents malicious intruders from sending massive fake ARP messages through a manipulated source. This protects important data from being stolen by Man-in-the-Middle attacks, and prevents wasting CPU cycles on these packets. For added security, the DHCP Server Screening feature blocks rogue DHCP server packets from user ports to prevent unauthorized IP assignment.
Features:
Security
Access Control List
D-Link Safeguard Engine
Port Security
ARP Spoofing Prevention
Smart IP-MAC-Port Binding
DHCP Server Screening
Management
IPv4/ IPv6 Dual Stack
Web GUI (supports 10 languages)
D-Link Network Assistant Utility
SNMP and RMON
Simplified CLI through Telnet
Intuitive Management
Manage using SmartConsole or web-based GUI
Built-in MIB browser for SNMP Management
D-View 6.0 module support
Compact CLI through Telnet
QoS
Supports IEEE 802.1p QoS
Supports DSCP
Advanced Features
Auto Surveillance VLAN
Auto Voice VLAN
Port or VLAN-based Loopback Detection
Cable Diagnostics
LLDP/LLDP-MED
Technical Specifications: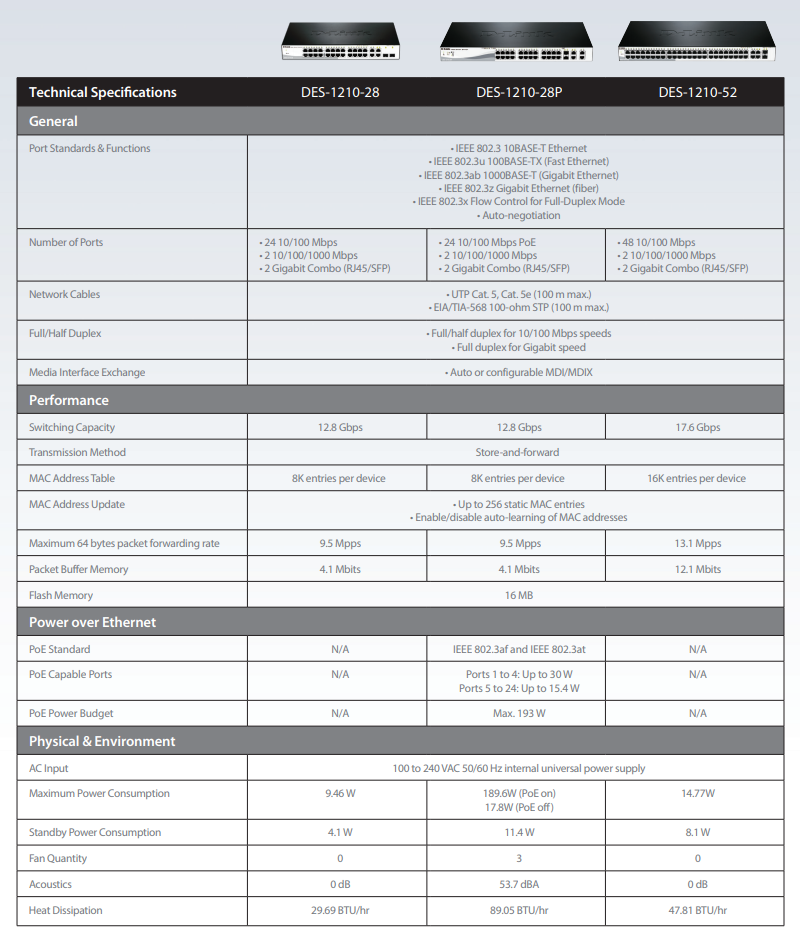 Pricing Notes:
Pricing and product availability subject to change without notice.