D-Link DGS-1210-10P/ME

10-Port Metro Ethernet Gigabit PoE Switch with 2 Gigabit SFP ports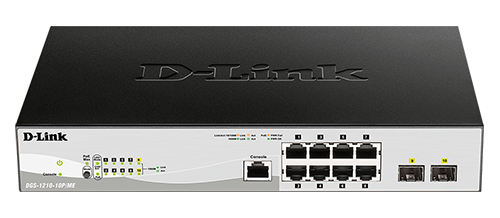 D-Link Products
D-Link Smart Gigabit Switches
10-Port Gigabit Smart Managed Metro Ethernet PoE Switch
#DGS-1210-10P/ME
Our Price: $480.99
Click here to jump to more pricing!
Overview: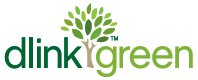 The DGS-1210/ME Series Metro Ethernet Switches are a family of switches designed for Metro Ethernet applications. They feature a variety of port configurations, including 10/100/1000BASE-T RJ-45 ports, with and without PoE support, and 1G SFP optical ports. They can be managed with a Command Line Interface (CLI) or user-friendly web-based Graphical User Interface (GUI). Surge protection, advanced Layer 2 functions, and a suite of security and management tools make the DGS-1210/ME switches ideal for Enterprises and Service Providers requiring additional capabilities beyond those found in a traditional Smart-managed switch.
Efficient and Resilient
For mission critical environments, the DGS-1210/ME switches support IEEE 802.1D 2004 edition, 802.1w, and 802.1s Spanning Tree Protocols (STP). The Spanning Tree Protocols allow the switches to participate in Spanning Tree topology, providing an alternative Layer 2 path in the event of a network failover. The switches also support IEEE 802.3ad link aggregation, which enables multiple ports to be grouped to form a single virtual port, increasing bandwidth and redundancy for higher availability. This series also features IEEE 802.1p Quality of Service (QoS), allowing for real-time traffic classification into Weighted Round Robin (WRR) and strict priority levels mapped to 8 queues. Advanced traffic classification parameters allow the network to be tuned for flexible configurations for specific multimedia applications such as VoIP or IPTV.
Surge protection is standard on all 10/100/1000 Ethernet ports2, and a rear panel RPS connector provides for an additional external power supply (for non-PoE models). ITU-T G.8032 ERPS provides sub-50 ms protection and recovery. Dying Gasp, Link OAM, and other useful tools allow quick trouble shooting during power failures or system shut downs.
Energy Saving
The DGS-1210 Series switches are capable of conserving power without sacrificing operational performance or functionality by using D-Link Green 3.0 technology. Using the Energy Efficient Ethernet standard, the network will automatically decrease the power usage when traffic is low with no setup required. For environments not fully supporting the standard, these switches offer advanced power-saving settings including port shutoff and standby, LED shutoff, and system hibernation based on custom time profiles. The time profiles can also be applied to the PoE switches so that unnecessary power consumption can be saved during off hours. The switches can also detect the length of connected cables to automatically reduce power usage on shorter cable connections.
Security & Authentication
The DGS-1210/ME switches support IEEE 802.1X port-based/host-based access control, guest VLAN, and RADIUS/TACACS+ authentication for strict access control to the network. The IP-MAC-Port Binding (IMPB) feature allows administrators to associate a source IP address with a designated MAC address and also offers the flexibility to define the port number to enhance user access control. The built-in D-Link Safeguard Engine™ protects the CPU from broadcast, multicast, and unicast flooding by automatically trapping packets and logging events in these situations. In addition, the Access Control List (ACL) feature enhances network security and switch performance.
Management Capabilities
The DGS-1210/ME switches support a variety of management options. They can be managed through the switch's serial console port, Telnet, or the web-based management agent. A Command Line Interface (CLI) is used to configure and manage the switch via the serial console port or Telnet interfaces. A web-based interface (GUI) may also be used through any port, allowing the switch to be controlled from any network connected PC. The DGS-1210/ME switches also support D-Lnk Network Assistant Utility (DLNA), which discovers all D-Link switches within the same Layer 2 network segment, making initial setup quick and easy. It allows extensive switch configuration and basic administration of discovered devices, including password changes and firmware upgrades.
The switches support Link Layer Discovery Protocol (LLDP), which advertises the device's capabilities and identity to the local network, allowing administrators to better manage their network topology. Each port also supports cable diagnostics, which can be used to troubleshoot cable length and functionality problems remotely, resulting in lower management overhead costs.
Traffic & Bandwidth Control
Integrated bandwidth control allows network administrators to define the throughput levels for ingress and egress bandwidth. It provides a minimum granularity of 64 Kbps for ingress port and flow-based bandwidth control, and a minimum granularity of 64 Kbps for egress queue bandwidth. The DGS-1210/ME switches also support traffic control, which optimizes performance by dropping packets when exceeding a set threshold, while port mirroring helps administrators facilitate traffic diagnostics and track network performance. The DGS-1210/ME switches also provide IGMP snooping with IGMP authentication to prune multicast traffic and to optimize available bandwidth.
Multicast Applications
The DGS-1210/ME switches feature a full set of L2 multicast functions, including IGMP snooping, IGMP filtering, fast leave, and multicast traffic configuration for specific ports. With L2 multicast support, these switches are ready and capable of handling growing IPTV applications. Host-based IGMP/MLD snooping allows for multiple multicast subscribers per physical interface, and ISM VLAN sends multicast streams in a multicast VLAN, saving bandwidth on the backbone. Additionally, ISM VLAN profiles allow users to bind or replace the predefined multicast registration information to subscriber ports quickly and easily.
Lifetime Warranty and NBD Replacement
D-Link offers a Lifetime Warranty and Next Business Day (NBD) hardware replacement on the DGS-1210/ME Series Metro Ethernet Gigabit Switches to further its commitment to product quality and long-term customer confidence. 1
1 Lifetime Warranty available in U.S.A. only. Lifetime Warranty void when not purchased from Authorized US D-Link Reseller. Please visit us.dlink.com for list of Authorized US Resellers.
Features:
Flexible Hardware Design
Available in multiple port configurations
PoE and non-PoE variations
Rear panel RPS connector for additional external power supply (for non-PoE models)
Management Options
Command Line Interface / Console port
Intuitive Web-based Graphical User Interface
D-Link Network Assistant Utility
SNMP v1/v2c/v3
Layer 2 Features
16K MAC address table
IEEE 802.1D STP, 802.1w RSTP, and 802.1s MSTP
Loopback detection
Supports IEEE 802.3ad Link Aggregation
Port-based Q-in-Q
VLAN Trunking
Security and Authentication
Port security
SSH/SSL
IP-MAC-Port Binding (IMPB)
Access Control List (ACL) and IEEE 802.1X
Guest VLAN
Technical Specifications: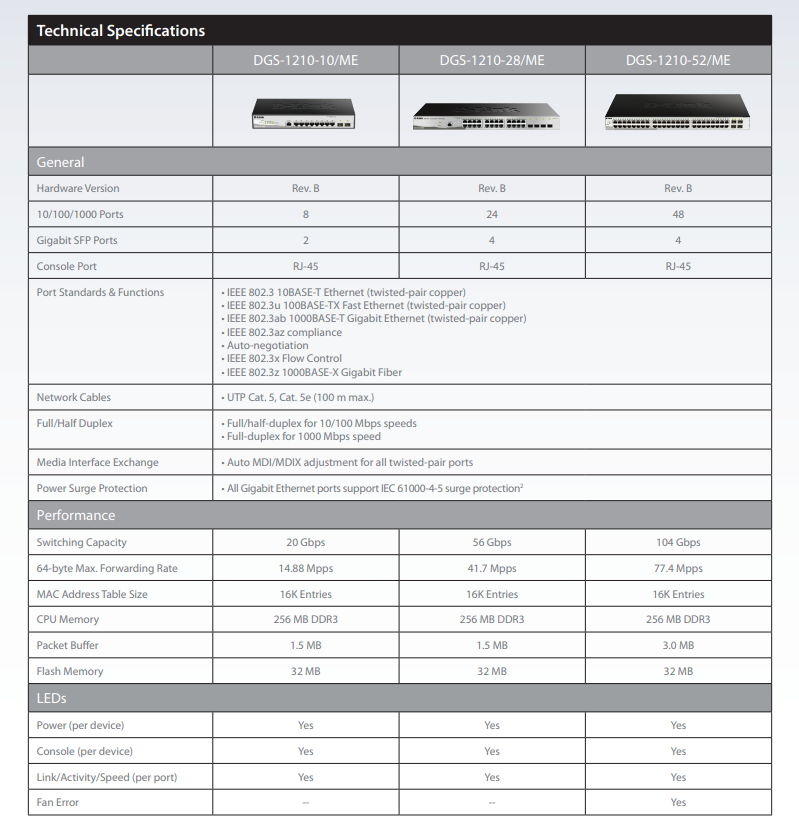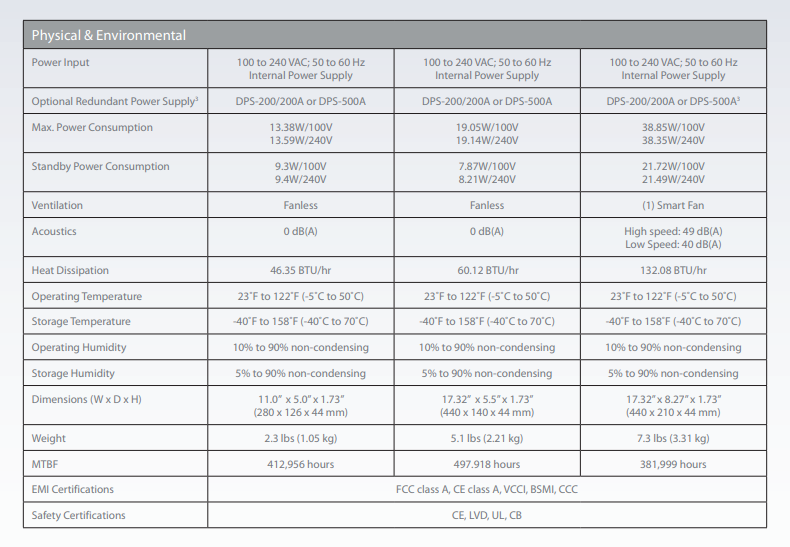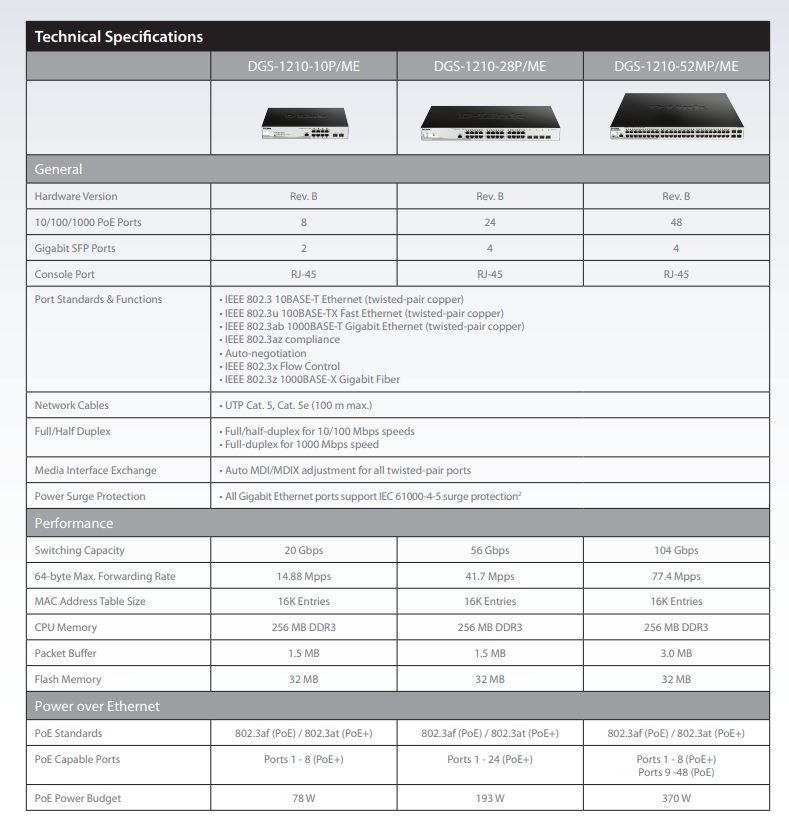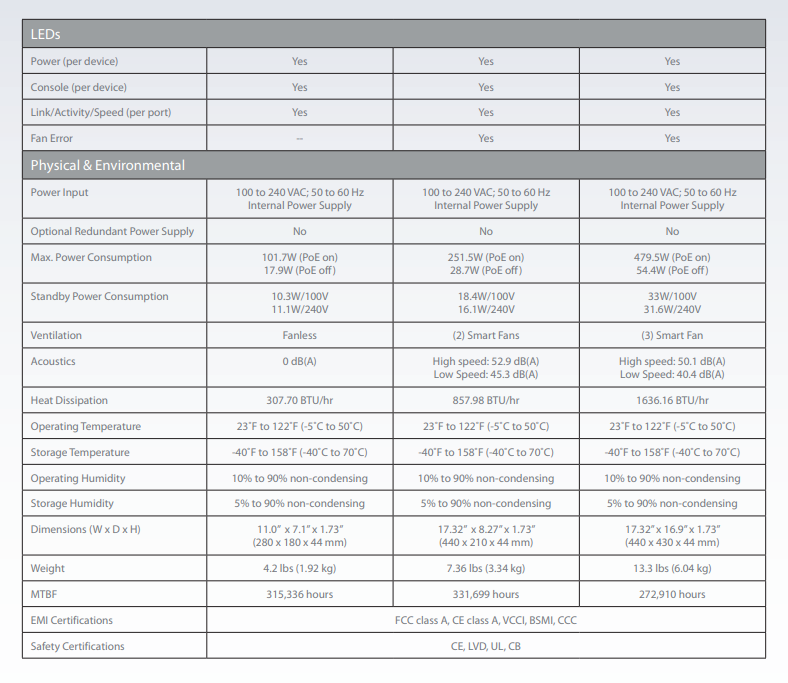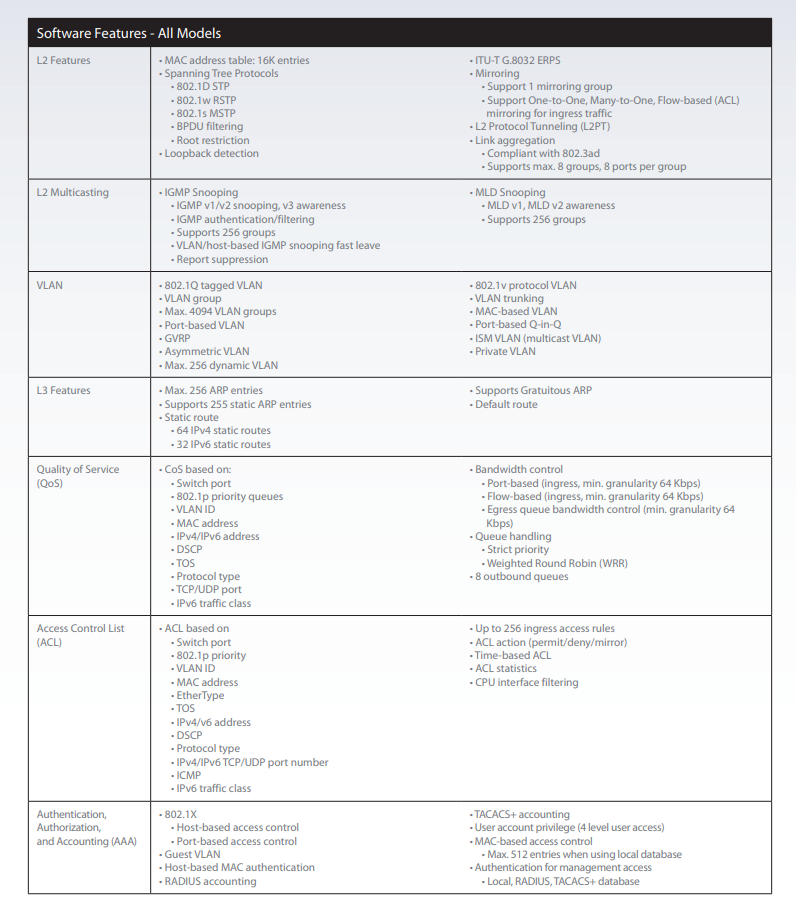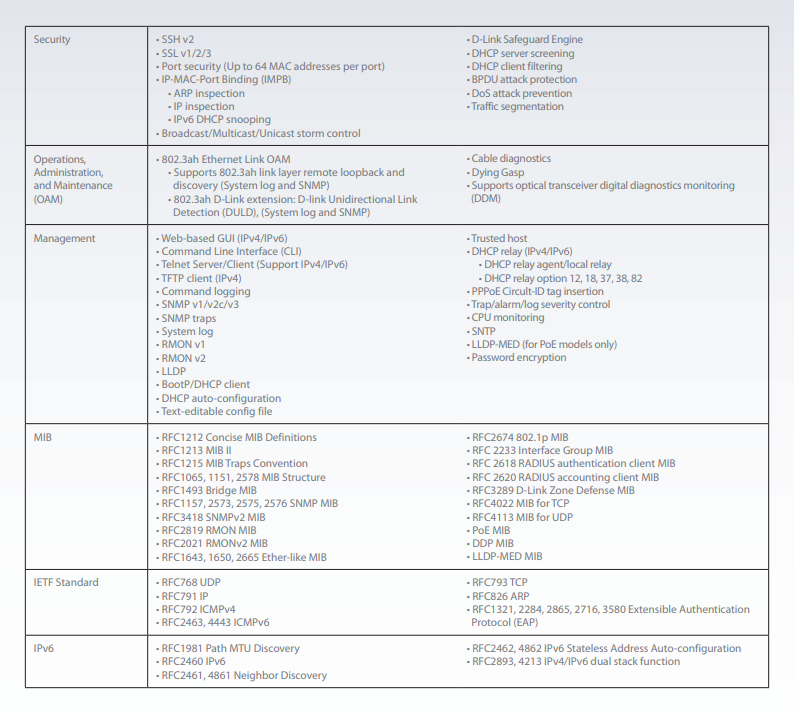 Pricing Notes:
Pricing and product availability subject to change without notice.
D-Link Products
D-Link Smart Gigabit Switches
10-Port Gigabit Smart Managed Metro Ethernet PoE Switch
#DGS-1210-10P/ME
Our Price: $480.99