D-Link DHP-306AV

PowerLine AV Network Adapter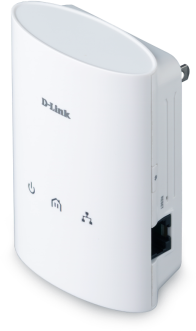 Sorry, this product is no longer available, please contact us for a replacement.
Overview:
The D-Link DHP-306AV adapter uses standard AC wiring to distribute Ethernet connectivity within the home. By simply plugging one PowerLine adapter into an existing electrical socket, you can turn every power outlet into a potential network connection, making the DHP-306AV an ideal solution for sharing a high-speed Internet connection or for connecting computers, HD media players, game consoles and Network Attached Storage to your home network.
Fast Speeds
Delivering data transfer rates of up to 200 Mbps1, D-Link's PowerLine Homeplug AV provides ample bandwidth for demanding digital home requirements, such as watching Internet TV or streaming digital music in any room. Advanced technology built into this adapter makes it more resistant to electrical interference from other household appliances, so users can fully benefit from the maximum transmission speeds. In addition to maximum throughput, D-Link's PowerLine Homeplug AV includes a built-in Quality of Service (QoS) engine that prioritises data packets in order to enhance HD video and audio streaming, online gaming and VoIP calling.
Connect your Devices
You can attach a switch or wireless Access Point (AP) to a D-Link PowerLine Homeplug AV Network Adapter, allowing you to connect multiple devices in the farthest corners of your home. Furthermore, D-Link's Powerline Homeplug AV implements 128-bit AES encryption for securing your connection and keeping your data safe from intruders. You can set this up easily via the button on the side of the adapter.
Compatibility
Based on the industry-leading Atheros Homeplug AV technology, the adapter is compatible with other brands' devices based on the same Homeplug AV standard. However, it will not work with devices based on other standards, such as D-Link's DHP-302/342.
1
Maximum throughput based on theoretical data rate. Actual data throughput will vary. Network conditions and environmental factors, including volume of network traffic and network overhead may lower actual throughput rate.
Technical Specifications:
D-Link DHP-306AV Specifications
Standard

IEEE 802.3
IEEE 802.3u
HomePlug AV

Powerline Interface
Power plug
Ethernet Interface
10/100BASE-TX Ethernet Port
MDI/ MDIX
RJ-45 Connector
Powerline Modulation Scheme
OFDM Symbol Modulation
Data Rate
Powerline: 200Mbps (PHY rate)1
QOS
Integrated QOS prioritizes media and data
Security

128-bit AES Data Encryption
Simple Connect Button

LEDs
Power Input
100~240 VAC, 50/60Hz
Power Saving

Power saving mode supported
Compliant with European Energy Using Product Directive

Operating Temperature
30° to 104°F
Operating Humidity
10% to 95% non-condensing
EMC Certifications

FCC part 15 Class B
CE EMC Class B

Safety Certifications
Dimensions

Item (WxDxH): 2.75" x 4" x 1.6"
Packaging (WxDxH): 8.25" x 5.38" x 3.75"

Weight

Item: 0.24 lb
Packaging: 0.74lb
1
Maximum throughput based on theoretical transmission PHY rate. Actual data throughput will vary. Network conditions and environmental factors, including volume of traffi c and network overhead, may lower actual data throughput rate. Interference from devices that emit electrical noise, such as vacuum cleaners and hair dryers, may adversely affect the performance of this product. This product may interfere with devices such as lighting systems that have a dimmer switch or a touch-sensitive on/off feature or short wave radios.