D-Link DHP-309AV

PowerLine AV + Mini Adapter Starter Kit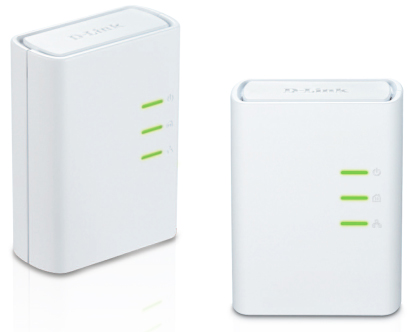 Sorry, this product is no longer available, please contact us for a replacement.
Overview: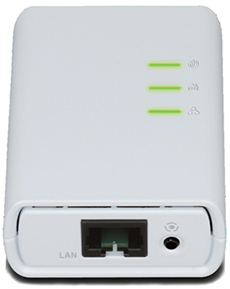 Extend Your Network
The D-Link PowerLine AV500 Network Kit (DHP-309AV) delivers fast wired connectivity to the hard-to-reach areas of your home – perfect for everyday web activities like multimedia streaming, web surfing and video chatting. Rather than using long and unsightly cables to get your devices online, the DHP-309AV instantly transforms your home's existing electrical circuit into a stable wired network, making it quick and easy to connect computers, printers, and other Ethernet-enabled devices. The DHP-309AV is the ideal solution for getting connected in spaces like offices, bedrooms and other areas of your home that are remotely located from your router.
Plug and Play Installation
Setting up your PowerLine adapters could not be any easier – simply connect one adapter to your router and the other to your device of interest, hit the simple connect button on each adapter, and you're good to go!
Scalable to your Needs
If you're looking to connect more than just one wired device to your network with PowerLine, simply connect additional adapters. D-Link's various PowerLine solutions are interchangable with one another, so even if you have older PowerLine models, compatibility won't be an issue.
Features:
Package Contents
2 PowerLine AV500 Network Adapters (DHP-308AV)
2 Ethernet Cables
Minimum System Requirements
For Internet Access:

Cable or DSL Modem
Router
Subscription with an Internet Service Provider (ISP)

Power Supply:
For Network:

2 or more PowerLine AV Devices
Features
Create a PowerLine Network right out of the box
Uses your home's existing electrical wiring by plugging into existing power outlets2
Compact elegant design
Power Saving Mode
Push and Secure encryption button
Supports 128-bit AES encryption for network security
Plug & Play Installation
24/7 Basic Installation Support3
1-Year Limited Warranty4
For optimal wireless or PowerLine performance use with D-Link PowerLine Products:
PowerLine AV 200 Mini Adapter Starter Kit (DHP-209AV)
PowerLine AV500 Network Kit (DHP-309AV)
PowerLine AV 500 Wireless N Extender (DHP-W310AV)
PowerLine AV 500 Wireless Extender Kit (DHP-W311AV)
PowerLine AV2 600 Gigabit Starter Kit (DHP-601AV)
2
Power outlets and electrical wiring must all be part of the same electrical system. Certain electrical conditions in your home, such as wiring conditions and configuration may affect the performance of this product. A minimum of two D-Link PowerLine AV Network Adapters are required to create a network. Connecting this product to a power strip with a surge protector may adversely affect the performance of this product. For best results, plug adapter directly into a power outlet.
4
1-Year Limited Warranty available only in the USA and Canada.
Technical Specifications:
D-Link DHP-309AV Specifications
Standard

IEEE 802.3
IEEE 802.3u
IEEE 1901
HomePlug AV

Ethernet Interface
Security
128-bit AES Data encryption
Input Power
100V ~ 240V, 50/60 Hz
LEDs
Power Consumption
<5W
Operating Temperature
30º to 104ºF (0º to 40ºC)
Operating Humidity
10% to 90% non-condensing
EMC Certifications
Safety Certifications
Dimensions
2.7" x 2" x 1.0" (70 x 52 x 26 mm)
Weight
0.23lbs (104g)
Warranty
1-Year Limited Warranty4
4
1-Year Limited warranty available only in the USA and Canada.
Diagram: