D-Link DKVM-CU

6FT 2 in 1 USB KVM Cable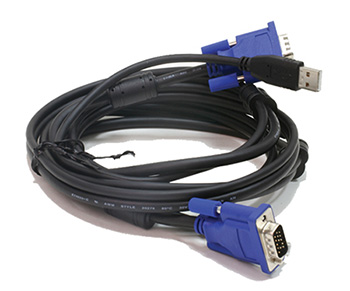 Sorry, this product is no longer available, please contact us for a replacement.
Optimum Performance
The D-Link 6-foot USB KVM cable (DKVM-CU) is compatible with the D-Link DKVM-4U KVM switch, which allows sharing of USB keyboard, USB mouse, and monitor among multiple computers. This cable is designed to ensure optimum signal quality and integrity between the PCs and the switch. The DKVM-CU cables are double shielded with ferrite cores to reduce electromagnetic (EMI) and radio frequency interference (RFI).
Space Saving and Easy Installation
The DKVM-CU is an all-in-one cable that minimizes desktop clutter. This cable consists of a USB keyboard/mouse cable and a monitor cable bonded into a single device. The flexible, reliable, and thin cable design saves your desktop's space and makes the installation quick and easy.
D-Link DKVM-CU
Keyboard & Mouse
USB 2.0 Type A to Type B Male
Monitor
15-pin HDB Male (Both Ends)
Dimensions
Length: 6ft
Weight
0.75lb (0.3kg)
Warranty
1 Year Limited1
1 1-Year Limited Warranty available only in the U.S.A and Canada.