D-Link DMC-G01LC

10/100/1000 to SFP Media Converter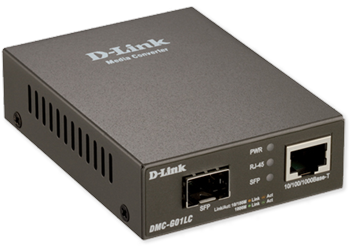 D-Link Products
D-Link NIC Cards and Media Converters
10/100/1000BASE-T to SFP Media Converter
#DMC-G01LC
List Price:
$65.99
Our Price: $48.99
Click here to jump to more pricing!
Overview:
D-Link's DMC-G01LC standalone media Converter turns a copper Ethernet link into a fiber link, allowing for an ultra-fast, long distance connection. Installation of a standalone media converter is simple, and allows you to tap into fiber speeds with ease. Instead of requiring an investment in an entire chassis, a standalone media converter provides the same high-quality conversion on a unit-by-unit basis. You can save space and cut costs while still extending your network over long distances of 10 km and beyond on a fiber optic line.
SFP Optical Transceivers for Maximum Flexibility
The fiber side of the DMC-G01LC utilizes a 100/1000 SFP port for maximum flexibility. Using the appropriate SFP transceiver (purchased separately) it can support either multimode or single-mode fiber, varying wavelengths, and speeds of either 100 Mbps or 1000 Mbps.
10/100/1000 Copper Speeds
The copper side of the DMC-G01LC auto-negotiates to 10Mbps, 100Mbps or 1000Mbps, ensuring the connection functions at the highest possible speed while remaining compatible with the link partner. It supports auto MDI/MDIX, half/full duplex operation at 10/100 Mbps and full duplex operation at 1000 Mbps.
Plug & Play
The DMC-G01LC supports standard technologies that makes it easy to operate, like 802.3u. 802.3x and 802.3ab. There's no management software to configure – simply connect the power, connect the cables, and start converting.
Product Features:
10BASE-T / 100BASE-TX / 1000BASE-T RJ-45 copper port
100BASE-FX / 1000BASE-X SFP port
Use multimode SFP or single-mode SFP
Technical Specifications:
D-Link DMC-G01LC Specifications
General
Maximum Forwarding Rate

10 Mbps: 14, 880 pps
100 Mbps: 148,800 pps
1000 Mbps: 1,488,000 pps
Forwarding mode 

Packet Buffer Memory 
256 Kbits
Switching Capacity
2 Gbps
Physical Environment
External Power Adapter
Switching 5V/1A Level V Power Adapter, ErP compliant
Power Consumption (Max.) at 240 V
Power Consumption (Standby) at 240 V
Heat Dissipation

11.81 BTU/h (Max.)
7.75 BTU/h (Standby)

Dimensions (L x W x H)
3.74 x 2.76 x 0.98in. / 95 x 70 x 25mm
MTBF (hours) 
506,711
Operation Temperature
32 to 122 °F / 0 to 50 °C
Storage Temperature
14 to 158 °F / -10 to 70 °C
Operating Humidity
10 to 90% non-condensing
Storage Humidity
5 to 90% non-condensing
Emissions (EMI) and Safety Certifications
EMI
EMI: CE class A, FCC class A, VCCI class A, BSMI class A
Safety
LVD, UL/cUL
Features

LAN 1 x 10/100/1000 Mbps port
IEEE 802.3u
IEEE 802.3x
IEEE 802.3ab
Auto-Negotiation for each port
Full-Duplex operation at 1000 Mbps
Half/Full-Duplex operation at 10/100 Mbps
Back pressure at Half-Duplex operation
Auto MDI/MDIX
Wire speed reception and transmission
Supports Jumbo frames up to 9216 bytes at 1000 Mbps
LLR (Link Loss Return)
LLCF (Link Loss Carry Forward)
Pricing Notes:
Pricing and product availability subject to change without notice.
D-Link Products
D-Link NIC Cards and Media Converters
10/100/1000BASE-T to SFP Media Converter
#DMC-G01LC
List Price:
$65.99
Our Price: $48.99