D-Link DNS-1250-06

ShareCenter Pro 1250 6-Bay Desktop Network Storage, NAS + iSCSI, Virtual Disk Drive Expansion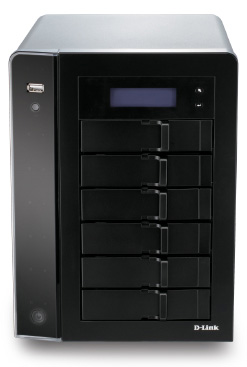 Sorry, this product is no longer available, please contact us for a replacement.
Overview:
Small and medium businesses face an ever increasing need for storage consolidation, document sharing and data backup. D-Link's DNS-1250 series (DNS-1250-04 and DNS-1250-06) ShareCenter® Pro 1250 Network Storage device addresses these requirements, and provides a multitude of advanced options for managing and securing important files.
Setup and configuration of the DNS-1250 series can be completed in a matter of minutes with our simple and easy to use One Click Setup and intuitive Web Based Interfaces.
Unified Storage Solution
The DNS-1250 series is a unified solution that provides iSCSI and NAS functionalities including MPIO and LUN-masking. It boasts strong iSCSI write performance, greater than many competing products. It also provides versatile RAID support. It features Serial ATA (SATA) disk drive bays (DNS-1250-04: four bays, DNS-1250-06: six bays) and supports volumes in RAID level 0, 1, 5, 6, 10, JBOD and Standard Mode configurations (the DNS-1250-06 also supports RAID levels 30 & 50). Additionally, S.M.A.R.T. disk diagnostics help to ensure data integrity through monitoring of the hard drives. Any hard drive problems detected can be dealt with by Predictive Data Migration (PDM) which moves data from an affected drive to a healthy drive to ensure no loss of data.
NAS File Server
Small and Medium Businesses will appreciate the DNS-1250 series NAS file server which takes advantage of the accelerated performance of the Intel Atom Dual-Core processor. Providing up to 9000 MIPS of computing power and 2GB of cache memory, the DNS-1250 series is able to provide the performance required for your business and its future growth with throughput up to 210MB/s in iSCSI applications.
Virtual Disk Drive (VDD) Expansion
Virtual Disk Drive (VDD) expansion allows the ShareCenter® Pro 1250 to attach up to eight external iSCSI storage targets found on the local network, and use them as virtual disks for additional storage volumes.
Advanced Security
Account management features include the ability to manage users & groups and their read/write permissions, create users, groups, and iSCSI targets with password authentication. Additionally, VLAN tagging support combined with AES encryption keeps files secure. The DNS-1250 series implements CHAP authentication, system firewall and IP blocking to guarantee secure access to the storage system.
A Variety of Backup Options
The DNS-1250 series offers a comprehensive range of backup options which allow administrators and users to control how, when and where their data is stored. Use the USB ports to back up folders from NAS to a flash drive. Users can also take a volume snapshot, back up to Cloud storage, or remotely back up to a server by using an rsync backup utility. Many third-party backup solutions like Acronis Backup & Recovery are also supported.
iSCSI for IP Networks
iSCSI offers fast access performance thanks to block-level data transfer. iSCSI targets appear as a local drive on a client PC or host server. Operations such as configuration, provisioning, and backup can be handled by the administrator in the same way they would be for direct-attached storage (DAS). By utilizing existing Ethernet technology, the cost associated with separate host bus adapters and the per-Gigabyte cost for storage can be significantly reduced when compared versus the Fibre-Channel alternative.
Share Printers and USB Storage
USB connectivity provides the option to connect a printer to the ShareCenter® Pro 1250 and utilize it as a print server, or to connect devices such as hard drives and flash storage to share on your network.
Green Features Save Energy
The DNS-1250 series supports Massive Array of Idle Disks (MAID 2.0) technology which enables significant power savings. It does this by automatically switching off disk drives that are not in active use. The DNS-1250 series is also 80 Plus certified. 80 Plus certification is granted to products that have more than 80% energy efficiency at certain levels of rated load. This enables the ShareCenter® Pro 1250 to run more efficiently by using less electricity, allowing it to run cooler and with reduced operating costs.
Convenient Graphical User Interface
The user interface is clean, intuitive, and professional, which dramatically increases usability. Information and functions are easily seen and found in a clear interface which users will be able to manage without requiring special IT knowledge.
Features:
Six Hot-Swappable 3.5-inch SATA drive bays

Supports up to 18TB with 3TB drives

Two Gigabit Ethernet Ports
Five USB 2.0 Ports

UPS, Printer, and External Storage Support

RAID Support

0, 1, 5, 6, 10, 30, 50, JBOD or Standard

RAID Migration
Predictive Data Migration (PDM)
Online Capacity Expansion
Virtual Disk Drive (VDD) Expansion
Storage Management/ Networking
iSCSI (up to 32 iSCSI targets)
DDNS
Snapshots (up to 32 Snapshots supported)
SNMP
CIFS/SMB/Samba
NFS
AFP
FTP
FTP over SSL
WebDAV
Link Aggregation
Jumbo Frame Support
HTTP/HTTPS
NTP
ADS Support
LDAP Support
Web File Manager
E-mail Alerts
Scheduled Downloads from Web or FTP Sites
Telnet
LLTD
IPv4/IPv6
LUN Mapping & LUN Masking
DHCP (Server/Client)
S.M.A.R.T. Hard Disk Diagnostics
Amazon S3 Cloud Storage Synchronization
VMware Ready
Security
CHAP Authentication
AES 256-bit Encrypted Volumes
System Firewall
IP Blocking
Connection Monitor
SSH
Backup
Remote Backup
Local Backup
Backup Software Included
Cloud Storage Backup
One Touch External Backup
Apple Time Machine Support
Power Management
Power Management to Conserve Energy and Extend Hard Drive Life

Schedule Power On/Off
Hard Disk Hibernation

MAID 2.0 Technology
Technical Specifications:
D-Link DNS-1250-06 Specifications
System Features
Networking

IEEE 802.3ad
DHCP (Server/Client)
TCP/IP
iSCSI
HTTP/HTTPS
IPv4/IPv6
SSH
CIFS/SMB/Samba
NFS
AFP
FTP
FTP over SSL
WebDAV
SNMP
Telnet
LLTD
DDNS
PXE Server
LUN Mapping & LUN Masking
NTP
Link Aggregation
Jumbo Frame Support
Scheduled Downloads from Web or FTP Sites

Support Hard Drive Type
Six Hot-Swappable 3.5-inch SATA drives - Supports up to 18TB with 3TB drives
Ports

2 x 10/100/1000 Gigabit Ethernet Ports (Wake-on-LAN support)
5 x USB 2.0 Ports for UPS, printer and external storage (1 in front, 4 in back)

Processor
Intel Atom D525 Dual-Core
RAM
2GB
System Management
Drive Management

Multiple Hard Drive Configurations

RAID 0/1/5/6/10/30/50/ JBOD/ Standard Mode

SMART Disk Diagnostics
Predictive Data Migration

External Storage Support
EXT3, EXT4, FAT32, XFS, HFS+, NTFS
Device Management

Power Management
Online Capacity Expansion
Web File Manager
E-mail Alerts
Resource Monitor
MAID 2.0

Active Directory Support

Windows Active Directory
Open LDAP

O/S Support

Windows
Mac
Linux
Unix
VMware Ready

Browser Support

Internet Explorer 7 or higher
Firefox 3.5 or higher
Safari 5.0 or higher
Google Chrome

File Sharing

Max. User Account: 4096 (Samba)
Max. Groups: 512 (Samba)
Max. Shared Folders: 1,024
Max. Concurrent Connections: 256

Snapshots
Supports up to 32 snapshots
Multi-language Support
English, French, German, Italian, Japanese, Korean, Simplified Chinese, Traditional Chinese, Russian, Spanish
Physical & Environment
Power Supply
250 watts (80 Plus certified)
Input Voltage
100-240 VAC
Input Frequency
50-60 Hz
Input Current
1.5-3.5 A
Operating Temperature
41° to 95°F (5° to 35°C)
Humidity
10% to 85% non-condensing
Weight
11.5 lbs (5.2 kg)
Dimensions
9.9 x 7.4 x 9.6 inches (251 x 188 x 243 mm)
Certifications
BSMI, C-Tick, CE, FCC, UL, VCCI
Warranty
5-Year Limited