D-Link DSL-520B

ADSL2+ Ethernet Modem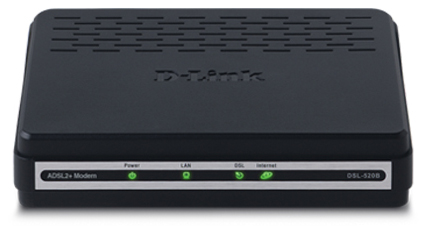 Sorry, this product is no longer available, Please contact us for a replacement.
Overview:
Ultimate Internet Connection For Your Homes
The ADSL2+ Modem (DSL-520B) is an affordable high-performance modem ideal for your home or small office. This modem supports high download speeds, Quality of Service (QoS), and extensive firewall protection, providing all the essentials that a home or small office would need to establish a secure and high speed remote link to the outside world.
Extensive Firewall Features for Added Internet Defense
Security features prevent unauthorized access of Internet intruders from entering your home network. This modem provides firewall security using Stateful Packet Inspection (SPI) and Denial of Service (DoS) attack protection. SPI inspects the contents of all incoming packet headers before deciding what packets are allowed to pass through.
Quality of Service for Smooth Traffic
Quality of Service (QoS) supports multiple priority queues to enable a group of home users to experience the benefits of smooth network connection of inbound and outbound data without concern for traffic congestion. This modem's QoS support allows users to enjoy high ADSL transmission for applications such as VoIP, streaming multimedia and online games.
High-Speed Internet Access
Always on high-speed internet connection, this modem allows you to do all of your favorite things on the Internet. Watch TV, listen to live music, play games, and experience clear Internet phone calls. Now, smooth streaming multimedia and VoIP voice are possible at home and in the office through a simple connection with this modem.
* ADSL speeds may vary depending on your individual contract with or services offered by your Internet Service Provider (ISP) and the distance of the modem from the ISP's DSLAM.
Technical Specifications:
D-Link DSL-520B Specifications
Device Interfaces

RJ-11 ADSL port
RJ-45 10/100BASE-TX Ethernet port with auto MDI//MDIX

ADSL Standards

ADSL : Multi-mode, ANSI T1.413 Issue 2, ITU-T G.992.1 (G.dmt) Annex A, ITU-T G.992.2 (G.lite) Annex A,
ITU-T G.994.1 (G.hs)
ADSL2: ITU-T G.992.3 (G.dmt.bis) Annex A/L/M ITU-T G.992.4 (G.lite.bis) Annex A
ADSL2+: ITU-T G.992.5 Annex A/M

ADSL Data Rates

G.dmt: 8Mbps downstream, 832Kbps upstream
G.lite: 1.5Mbps downstream, 512Kbps upstream
ADSL2: 12Mbps downstream, 1Mbps upstream
ADSL2+: 24Mbps downstream, 3.5Mbps upstream

ATM & PPP Protocols

ATM Adaption Layer type 5 (AAL5)
Bridged or routed Ethernet encapsulation
VC and LLC based multiplexing
MAC Encapsulated Routing
ATM Forum UNI3.1/4.0 PVC
ATM Cell Format ITU-T Rec. I.361
PPP over ATM (RFC 2364)
PPP over Ethernet (PPPoE)
PPP Link Control Protocol (LCP)
Internet Protocol Control Protocol (IPCP)
PPP Authentication Protocol (PAP)
PPP Challenge Handshake
Authentication Protocol (CHAP)
Microsoft PPP CHAP extensions

Router Features & Netework Protocols

Internet Control Message Protocol (ICMP)
Network Address Translation (NAT), IP Static Routing, Routing Information Protocol (RIPv1, RIPv2)
NAT ALG (optional):
MSN/AOL/Yahoo Messenger, FTP, CUSEEME, Real Audio, MIRC, SIP, ICQ, games, SNMP
Dynamic Host Configuration Protocol (DHCP); DHCP server, client, and relay
SNTP, DNS Relay, DDNS proxy and IGMP proxy

Firewall ⁄Access Security

MAC Filtering (optional)
Packet Filtering
Stateful Packet Inspection (SPI)
Denial of Service prevention (DoS)
Intrusion Detection System/Log
User Authentication PAP
User Authentication CHAP

Configuration⁄Management

Telnet/SSH access for configuration (optional)
Local access via console (optional)
ADSL/ADSL2/ADSL2+ manual selection and auto fallback
Auto VPI/VCI detection
Configuration backup and restore
Diagnostics
Log & Trace function
SNMP v.1 and v.2c with MIB-I and MIBII (optional)
TR-069 compliant with ACS (optional)

Quality of Service

Traffic Prioritization/Classification
Port-based priority
802.1p/q (0-7) priority
DiffServ-Codepoint IPQos (TOS)
Application port-based priority
4 priority queues per PVC
Traffic Shaping
PVC/VLAN

Power

Input: 100-240 VAC, 50/60 Hzs
Output: 12v DC, 0.5A
Power switch (optional)
Factory reset button

Operating Temperature
32°F to 104°F (0° C to 40° C)
Storage Temperature
-4°F to 158°F (-20° C to 70° C
Certification
Warranty
1-Year Limited1
1
1-Year Warranty available only in the U.S.A and Canada.
Diagram:
What this product does
This ADSL2+ modem connects to the Internet using an integrated high-speed ADSL2+ interface, and allows multiple computers to share a high-speed Internet connection. It also functions as a router that provides firewall protection and QoS for secure and smooth online gaming, voice communications and downloading of photos, files, music and video over the Internet.