D-Link DSN-6510

12-Bay 2x10GbE + 2xGbE H.A. Capable iSCSI SAN Storage Array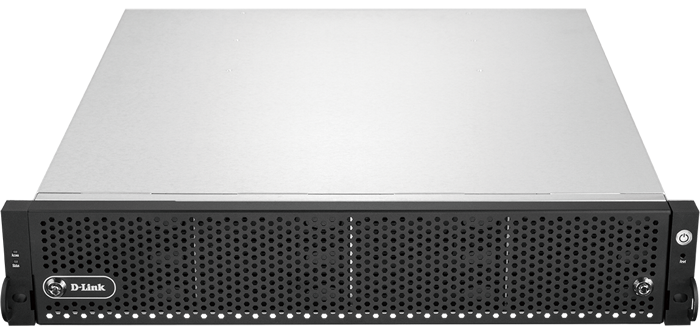 Sorry, this product is no longer available, please contact us for a replacement.
Overview:
D-Link's DSN-6510 iSCSI SAN array is a fully redundant, data centre-class network storage solution in a 2U rackmount form factor. The DSN-6510 currently supports 72TB of raw capacity using 6TB drives (and even greater capacity as larger disk drives become available), and overall scalability up to 1.5PB using additional DSN-6020 expansion JBODs. D-Link's DSN-6510 provides 10GE host interface connectivity. The DSN-6000 Series storage architecture supports services for applications demanding high throughput, scalability and flexible storage planning. The DSN-6000 Series can be easily implemented as primary storage, as secondary storage to supplement an existing infrastructure, or as a nearline storage device to improve backup and recovery times. Using the intuitive and integrated management GUI, the DSN-6000 Series Arrays can be seamlessly incorporated in both Physical and Virtual Server environments.
High Availability
The DSN-6000 Series can provide the failover and redundancy capabilities required for mission critical scenarios such as Virtual Machine (VM) shares, database hosting, Online Transactional Processing (OLTP), email applications, storage consolidation and other primary storage needs. It is equipped with fully redundant components for all major functions, such as RAID controllers, power supplies, fan modules, battery backup modules, and SAS JBOD expansion ports. The Hot-pluggable design is capable of providing uninterrupted services. In addition, the DSN-6000 Series incorporates advanced high availability features such as RAID 6 and RAID 60 support, writable snapshot, Microsoft Windows™ VSS support, and volume configuration restoration. These advanced features help to reduce or eliminate any system downtime. Unlike other vendors, D-Link's DSN-6000 Series is able to upgrade to firmware without the system going offline. Both firmware image and volume handling are well protected by the redundant RAID controllers; when one RAID controller is down or has lost connection, the other RAID controller takes over its tasks immediately. This feature ensures that volumes and services are transferred seamlessly and simultaneously.
Applications
The optimised Input/Output Operations per second and unparalleled throughput are capable of providing run-time critical online services, such as Cloud storage, SQL, Exchange, and high-end surveillance storage. Furthermore, with its iSCSI interface, D-Link's DSN-6000 Series is ideal for virtualisation environments – VMWare, Hyper-V, and Citrix. Multiple Operating Systems/Servers can be easily managed and protected by D-Link advanced data protection features, avoiding system downtime caused by single points of failure.
Expansion Options
The capacity of the DSN-6000 Series storage arrays can be easily expanded with the addition of the DSN-6020 Expansion Enclosure, which supports up to 12 SAS and SATA hard drives.  Up to 21 DSN-6020 enclosures can be mounted in a single or dual controller configuration storage array to expand the overall capacity to 1.5PB, and even higher capacity as larger hard drives are introduced.
Green Energy Savings
The DSN-6000 Series is equipped with D-Link Green features for saving power. A hard drive can be a very power-hungry component in a SAN. When properly configured, the power consumption of hard drives can be reduced to a minimum using the auto disk spin down feature. The DSN- 6000 Series systems monitor environmental temperatures to optimise the cooling mechanism. The fan modules respond only when needed. The power supply modules are all 80 PLUS power efficient, providing a more favorable power conversion rate. When combined, these power saving features help to greatly reduce energy consumption and increase the product's lifespan.
Business Value-Added Features
The optimized IOPS and throughput enable the DSN-6210/6510 to provide runtime-critical online services, such as cloud storage, local and remote backup, SQL, Exchange and high-end surveillance storage. Furthermore, with the iSCSI interface, DSN-6210/6510 storage systems are ideal for virtualization environments such as VMWare, Hyper-V and Citrix.
SATA Bridge Board (DSN-654)
The DSN-654 SAS to SATA bridge board is designed to enable singleported SATA drives to connect seamleslly like native dual-ported SAS drives. The DSN-654 is required for each drive, for SATA deployments in a dual controller configuration as described in the diagram below. Also, these same rules will apply to SATA drives installed in any additional DSN-6020 expansion enclosures.

Features:
Storage
Twelve easy-to-load hard drive bays accept any capacity 3.5" SATA or 2.5" internal drive
Multiple RAID types for a wide range of storage options (JBOD, RAID 0, 1, 3, 5, 6, 10, 30, 50, 60)
SAS JBOD expansion port
Performance
Flexible volume management for multiple applications including virtualization
High connection availability for load balancing and failover
Capacity extendable up to 256 HDD
Thin provisioning to enable dynamic capacity allocation
Faster, more powerful hardware and add-on software features provide a more streamlined solution
2 x 400W redundant power supply
Fully redundant and hot-pluggable design
Intuitive online GUI with volume management and expansion
Writable snapshot and storage based replication
Green Technology
Redundant 80+ Gold
Power-efficient SSD drive support
Auto disk spin down
Energy efficient power supply
Technical Specifications:
D-Link DSN-6510 Specifications
General
Support Hard Drive Type
Up to 12 SATA II / SATA III HDD or SSD1
Port
Two 10GbE iSCSI Ports (comes standard with one SFP+ transceiver and one LC fiber cable) and two 1GbE iSCSI Ports
Memory
4 GB DDR3 ECC
Processor
Intel S1200 series
Fan
2x System fan
Ports

Management
Console
RS 232 port
SAS JBOD expansion port
USB

LEDs

Status
Access
GbE Activity
GbE Connection/Speed

Front-end

DSN-6210
6x GbE iSCSI ports per controller
DSN-6510
2x 10GbE iSCSI ports (SFP+) + 2x GbE iSCSI ports per controller

Form Factor
Functionality
RAID and Volume

RAID level 0, 1, 0+1, 3, 5, 6, 10, 30, 50, 60, JBOD, N-way mirroring
Up to 2048 logical volumes
Up to 64 hard drives per volume group
One logic volume can be shared by as many as 16 hosts
Global and dedicated hot spare
Write-through or write-back cache policy
Online volume expansion
Instant RAID volume availability
Auto volume rebuilding
On-line volume migration without system down time
SSD caching (License)
Thin provisioning

Host Interfaces iSCSI

CHAP authentication
Virtual LAN
iSNS support
Up to 64 multiple nodes support
Up to 64 hosts support
Up to 256 sessions per controller

Networking

DHCP and static IP support
NTP client
Trunking / LACP / Teaming
VLAN tagging
Jumbo frame support

Data Protection

Remote replication
Snapshot
Volume cloning
Microsoft Windows Volume Shadow Copy Services (VSS)
Configurable N-way mirror
Online disk roaming
Instant volume restoration
Hot pluggable battery backup module

Management

Java-based centralized management software
Serial console
HTTP Web UI
Secured Web (HTTPS)
SSH telnet
LED indicators
Event notification via email, SNMP trap, browser pop-up windows, Syslog and Windows Messenger
Wake-on-LAN

Operating System Support

Windows 7, Windows Server 2003 R2, 2008, 2008 R2 & 2012
Red Hat Enterprise Linux 5/6
Solaris 10/11
Mac OS X 10.6 or higher

Virtualization

VMware 5.1 + VAAI or above
Citrix
Hyper-V 3.0

Web Browsers Supported

Internet Explorer
Mozilla Firefox
Apple Safari
Google Chrome

Green

Wake-on-LAN to turn on or wake up the system only when necessary
80 Plus Gold energy-efficient power supplies
Auto disk spin down

Physical & Environment
Dimensions
17.55 x 19.64 x 3.46 inches (446 x 499 x 88 mm)
Weight
55.11 lbs (25 kg)
Power

Input: 90 to 264 V AC, 50/60 Hz
Supply type: Dual Hot-Swappable 2x400W

Operating Temperature
23° to 113°F (-5° to 45°C)
Relative Humidity
5% to 95% non-condensing
Certifications
CE, FCC, BSMI