D-Link DXE-820T

Dual Port 10GBASE-T RJ45 PCI Express Adapter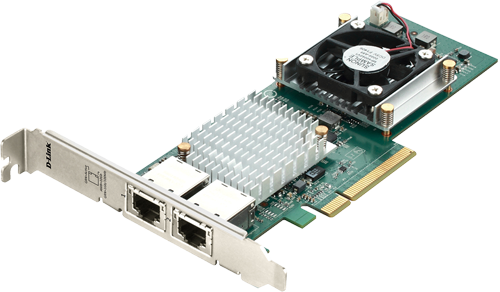 D-Link Products
D-Link PCI Express Adapter
10GBASE-T Dual Port Network Adapter PCI Express
#DXE-820T
List Price:
$607.99
Our Price: $416.99
Click here to jump to more pricing!
Overview:
The D-Link DXE-820T Dual Port 10GBASE-T RJ-45 PCI Express Adapter is a high performance adapter designed for the high-speed PCI Express bus architecture. The Dual Port 10GBASE-T RJ-45 PCI Express Adapter offers increased bandwidth, reliability, and more functionality than standard PCI network cards. It is specifically designed to allow throughput at rates up to 40 Gbps, thus eliminating the bottleneck that exists with current 32 and 64-bit PCI bus architectures.
Advanced Features and Security 
The adapter features onboard screening of 802.1Q VLAN tagged Ethernet frames, allowing you to assign multiple subnets to each server and isolate devices within each VLAN from the rest of the network for better traffic control and security. With support for advanced features such as 802.3x flow control, jumbo frames, and SNMP for network management, the DXE-820T can easily interoperate with your current networking equipment.
Performance and Reliability
The DXE-820T increases network throughput by utilizing PCI Express bus architecture. With Smart Load BalancingTM the DXE-820T configures multiple adapters to work as a team, sharing traffic and ensuring data reliability. This both creates a faster network and provides fault tolerance resulting in a stable and efficient network.
Checksum Offloading 
The DXE-820T features TCP, UDP, and IP checksum offloading functionality, which transfers the checksum processing tasks from the computer's CPU to the network card. The DXE-820T's ability to handle the checksum processing means that the CPU's processing power can be used for other tasks while still achieving 20 Gbps network speeds.
Features:
High Performance
PCI Express Interface v2.0
Auto-negotiation
Up to 40 Gbps throughput
10GBASE-T Technology
10Gbps speeds supported to 100m using CAT-6A or better
100/1000Mbps speeds supported to 100m using CAT-5e or better
Advanced Standards-based Enterprise Features:
802.1Q VLAN tagging
802.3x flow control
802.3ad teaming
Jumbo frame support
SNMP statistics
TCP/UDP/IP checksum offloading
Technical Specifications:
D-Link DXE-820T Specifications
General
Standards

IEEE 802.1Q VLAN tagging 
IEEE 802.3x flow control 
IEEE 802.3an 10GBASE-T
IEEE 802.3ab 1000BASE-T
IEEE 802.3u 100BASE-TX
IEEE 802.3az Energy Efficient Ethernet (EEE)
IEEE 802.3ad teaming
PCI Express x8 2.0, 5 GT/s compliant

Power

Maximum Power Consumption:  23.38 W
Input Voltage: 3.3 V/12 V 

Data Transfer Rate

10 Gbps Full Duplex
1 Gbps Full Duplex
Auto mode (support 100 Mbps)

Transmit Distance

10GBASE-T

100m with Cat 6A or higher UTP
50m with Cat 6 UTP

100/1000BASE-T

100m with Cat 5 or higher UTP

Interface Slot
PCI Express v2.0 x8/x16 slot 
Supported Functions

NIC partitioning
Other performance features

TCP, IP, UDP checksum
TCP segmentation
Adaptive interrupts
Receive Side Scaling (RSS)

Manageability

Statistics for SNMP MIB II, Ethernet-like MIB, and Ethernet MIB
SMBus controller
IPMI support (IPMI pass thru mode)

Advanced network features

Jumbo frames (up to 9 KB)
Virtual LANs
Smart load balancing teaming
LiveLink™ (supported in both the 32-bit and 64-bit Windows operating systems)

Logical Link Control (IEEE Std 802.2)
Layer-2 Priority Encoding (IEEE Std 802.1p)
High-speed on-chip RISC processor
Up to 3 classes of service (CoS)
Integrated 96 KB frame buffer memory
Quality of Service (QoS)
Support for multicast addresses via 256 bits hashing hardware function
JTAG support
PCI Power Management Interface (v1.1)
64-bit BAR support
iSCSI Boot support
Virtualization

Functionality
Driver Support

Windows Server 2008 (x86, x64)/2008 R2 (x64)
Windows Server 2012
RHEL 6.4/6.5 (x64), RHEL 5.9 (x64)
SLES 11.2/11.3 (x64)
Solaris 11/11.1

Diagnostic LED

CESpeed/Link
Activity, FCC Class B

Functionality
Dimensions
7.13 x 4.76 x 0.85 inches (181 x 121 x 22 mm)
Temperature

Operating: 32 to 104 °F (0 to 40 °C)
Storage: -4 to 158 °F (-20 to 70 °C)

Humidity

Operating: 10% to 90% non-condensing
Storage: 10% to 90% non-condensing

Certifications
Warranty
1 year limited
Product Views: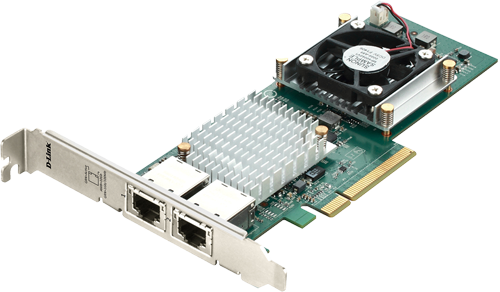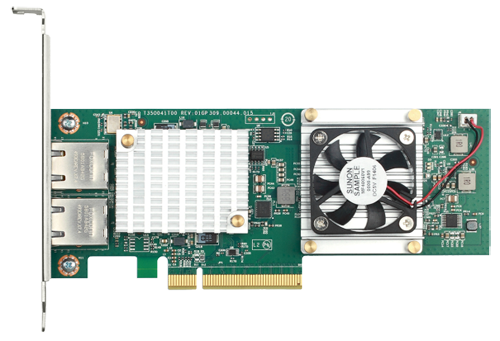 Pricing Notes:
Pricing and product availability subject to change without notice.
D-Link Products
D-Link PCI Express Adapter
10GBASE-T Dual Port Network Adapter PCI Express
#DXE-820T
List Price:
$607.99
Our Price: $416.99