D-Link Nuclias Cloud

A complete Cloud-based solution for SMBs seeking hassle-free network management.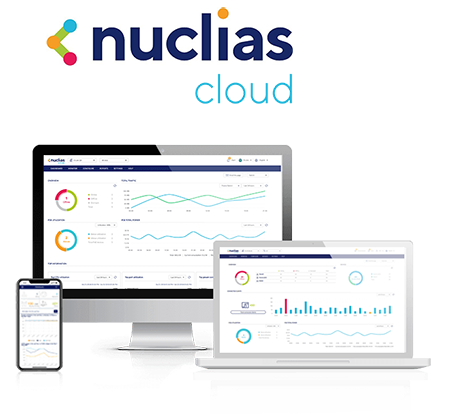 Cloud Networking, Refreshed
The DBS-2000 series of switches is part of the Nuclias Cloud solution – D-Link's complete Cloud-Managed Networking solution for Small-to-Medium Businesses (SMBs), designed to make the ownership and administration of your IT infrastructure as simple and hassle-free as possible.
Nuclias by D-Link is a complete cloud-managed networking solution for small to medium-sized organisations with one or more sites.
Cloud networking, easy and simple, as it should be
Our Nuclias Cloud solution allows any organization with any level of IT resources to quickly and easily deploy, configure, manage, monitor, troubleshoot, and scale their networks remotely – via web browser or app.
Zero-touch Deployment
Hassle-free Management
Unlimited Scalability
Configure and manage your network over the Cloud
D-Link Nuclias Business Cloud Access Points
D-Link Nuclias Cloud-Managed Switches
Configure and manage your network over the Cloud
Zero-touch deployment of Access Points, Switches and other Nuclias Cloud-enabled devices can be done by non-technical personnel, with configuration and ongoing management carried out remotely via computer or tablet, anywhere.
SMBs/SMEs - Deploy an efficient network built for the future. Easily manage multiple sites, and generate detailed reports.
Retail Chains - Add your business logo to the fully customizable captive portal to build brand awareness.
Hospitality - Guest access via Social Login, up-to-date reporting, or organized by date, time, and client.
Education - Deploy devices quickly and efficiently, and manage them remotely from the Cloud.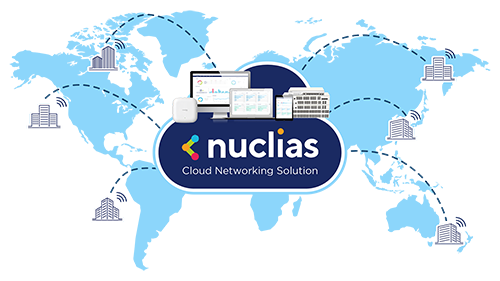 Cloud network management with ease
Nuclias Cloud is designed for businesses who lack in-house IT skills. Network self-healing, airtime fairness, and load balancing minimize complaints and outages. Network expansion is a snap, updates are easy, and management can be entirely outsourced to a Managed Service Provider (MSP) – it's that simple.
No additional training needed
Unlimited scalability of supported Cloud-enabled devices
Efficient centralized Cloud-based management
Devices still work even when not connected to the Cloud
99.9% Service Level Agreement reliability
Zero-Touch Deployment with Cloud-Based Management
With Nuclias Cloud, there's no need to send out an engineer for installation. With Zero-Touch Deployment, all you need to do with a new onsite device is connect it. All configuration can be remotely managed via the Cloud. Firmware upgrade is done over the air. Set up the update schedule on the web portal, and firmware upgrade is carried out for assigned sites and devices, as scheduled.
Nuclias Cloud is built on a tried and trusted platform
With Nuclias Cloud, 99.9% availability is guaranteed, with 24x7 automated failure detection, and cross-timezone support for rapid escalation across multiple teams, and multilingual access. Performance is optimized by servers that automatically scale to meet performance demands.
Main Features
Zero-touch provisioning
Role-based administration
Auditable change logs
Authentication via customisable captive portal, 802.1x and RADIUS server
Social login for Wi-Fi access supported
Advanced traffic report and data analysis
Intuitive web-based interface with multilingual support
Automatic monitoring and alerts
Over-the-web firmware upgrades
Searchable network-wide event log
Intuitive VLAN Configuration
Cloud based RF Optimisation
Nuclias Cloud and Connect Comparison
Controller Type
Cloud-Based
Local-Based
Scalability (Standard)
Unlimited
Software Controller - Up to 1,000 APs
Hardware Controller - 100 for Nuclias Hub
Solution Scope
Complete Solution including APs, Switches, Gateway, and Surveillance Cameras (TBC)
Customizable Software Controller with AP and hub
Legacy Device Compatibility
No
Yes (Selected Devices)
Ease of Deployment
Zero-Touch
Desktop-Based Configuration
App
Tablet
IOS and Android
User-Friendly Interface
Yes
Yes
Technical Expertise Req'd
Low
Low to Moderate
Target Audience
Small to Medium & Large Enterprises
Small to Medium Enterprises
Pricing
Pay-As-You-Go
(Licensing fee)
Cost-Effective Scaling
(Free software, licensing fee for hub)