D-Link Unmanaged Fast-Ethernet Switches

D-Link Unmanaged Switches are designed for cost effective and ideal for smaller networking needs.
They support full duplex operation, provide IEEE 802.3x flow control for reliable data transfer, and auto MDI/MDIX to eliminate the need for cross-over cables to simplify installation.
These switches support Quality of Service, which enables queues for traffic prioritisation and optimal experience of media streaming and VoIP calls. They also make use of D-Link Green technology to reduce power consumption and provide a longer product life without sacrificing operational performance or functionality.
Simplest way to build a network and let it run itself
Plug-and-play connectivity for small businesses
Ideal for small networks that are sharing resources
Green Ethernet to save energy and cut electricity consumption costs
D-Link Unmanaged Fast-Ethernet Switches: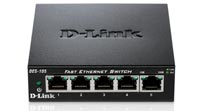 5-Port 10/100 Switch
MAC Address Table Size 2K
Switching Capacity 1.0 Gbps
Energy Saving Technology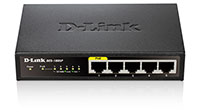 5-Port 10/100 Mbps Fast Ethernet
PoE Ports available
MAC Address Table Size 2K
Switching Capacity 1.0 Gbps
Energy Saving Technology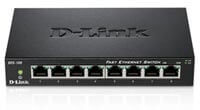 8-Port 10/100 Fast Ethernet
MAC Address Table Size 1K
Switching Capacity 1.6 Gbps

8-Port 10/100 Fast Ethernet
4-Port PoE Ports available
MAC Address Table Size 1K
Switching Capacity 1.6 Gbps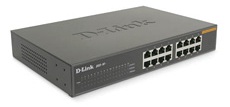 16-Port 10/100 Fast Ethernet
MAC Address Table Size 8K
Switching Capacity 3.2 Gbps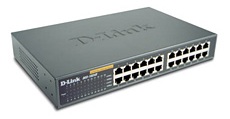 24-Port 10/100 Fast Ethernet
MAC Address Table Size 8K
Switching Capacity 5.2 Gbps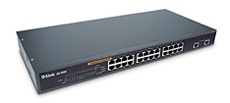 24-Port 10/100 Fast Ethernet
2-Port 10/100/1000 Gigabit Ports
MAC Address Table Size 8K
Switching Capacity 8.8 Gbps