D-Link DCS-4703E

Vigilance Full HD Outdoor PoE Mini Bullet Camera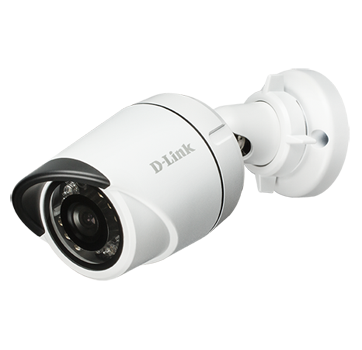 Sorry, this product is no longer available, please contact us for a replacement.
Click here to jump to more pricing!
Overview:
The D-Link DCS-4703E Vigilance Full HD Outdoor PoE Mini Bullet Camera is a high-definition professional surveillance and security solution suitable for small, medium, and large enterprises. The camera uses a high-sensitivity 3 megapixel progressive scan CMOS sensor to deliver truly superior quality video under a wide range of lighting conditions. The all-in-one rugged design makes this camera ideal for reliable deployment in surveillance applications without the need for additional accessories. The DCS-4703E also includes a built-in 802.3af compliant PoE module that eases installation by providing power and networking connectivity with a single cable, reducing the need to drill holes or lay additional cabling
Enhanced LowLight+ Video
The built-in IR LED illuminators automatically turn on depending on lighting conditions, allowing the camera to capture video even in low-light or no-light conditions. Incorporating a highly sensitive CMOS sensor, the DCS-4703E provides outstanding performance in low-light conditions, rendering more vibrant color details regardless of the amount of light available. The enhanced 3D noise reduction feature provides a level of detail in the image quality that is unmatched by other offerings in the market. With the IR-Cut filter, the DCS-4703E can provide sharp grayscale video in low-light conditions up to 65 feet.
Continuous Monitoring
Embedded with a powerful SoC (System-on-Chip), the DCS-4703E provides real-time video compression in H.264 and MJPEG formats. These elements combine to make this camera an ideal solution for 24-hour surveillance.
D-ViewCam for Management
The DCS-4703E Vigilance Full HD Outdoor PoE Mini Bullet Camera includes D-ViewCam, a complete surveillance software package that enables you to view, manage, and record from up to 32 cameras with a robust set of features, including multi-camera views and automated e-mail alerts to keep you informed of suspicious or unusual activities.
Features:
Camera
1/3" 3 megapixel progressive CMOS sensor
Fixed lens with focal length of 3.6 mm, and an F1.8 aperture
Up to resolution of 1080p at 30 fps
H.264, MJPEG codec support for streaming and recording
Wide Dynamic Range image enhancement
3D filtering reduces image noise in low-light environments
Video
Outdoor placement
Built-in IR LED illuminator with a 65 foot range for use in dark areas
Works in a wide range of climates from -22 °F to 122 °F
Protective bracket for cables
IP66 certified housing
Glare reducing sun shield
Flexibility and Connectivity
10/100 Fast Ethernet port with PoE (Power over Ethernet) ensures easy integration into your network
Supports 802.3x, QoS, CoS, and SNMP
ONVIF compliant
Technical Specifications: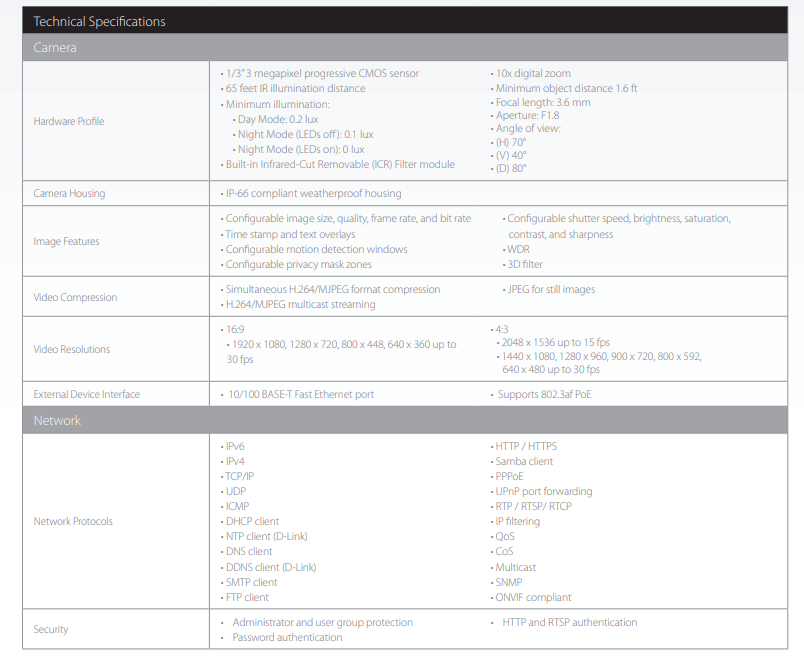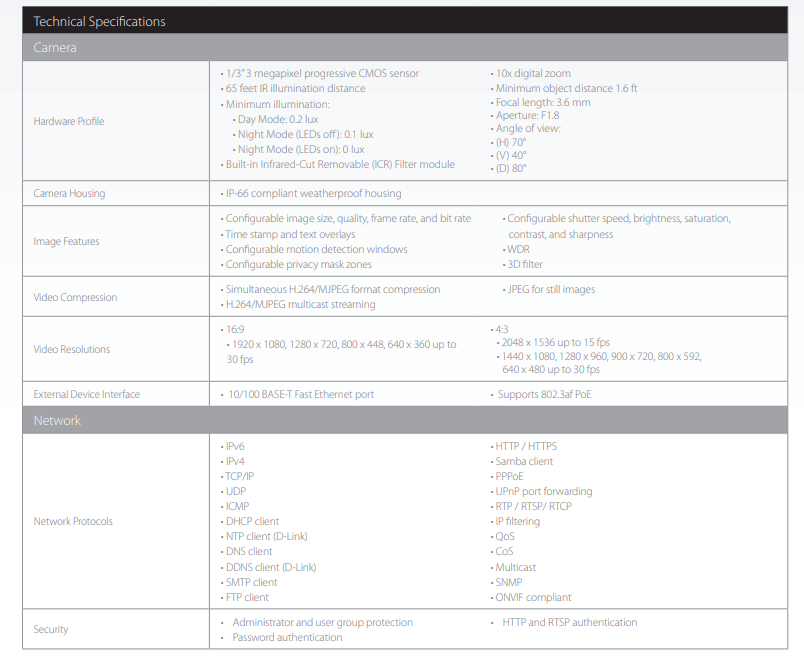 Pricing Notes:
Pricing and product availability subject to change without notice.