D-Link DWA-582

AC1200 Wi-Fi PCI Express Adapter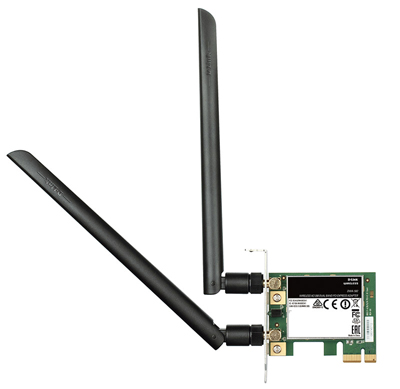 Sorry, this product is no longer available, please contact us for a replacement.
Click here to jump to more pricing!
Overview:
The DWA-582 AC1200 Wi-Fi PCI Express Adapter lets you connect to your wireless network with faster speeds and over greater distances. The improved wireless coverage and better speeds allow you to enjoy faster and more reliable connections throughout your home.
With the D-Link AC1200 Wi-Fi PCI Express Adapter you can upgrade your desktop PC to add the latest generation wireless AC technology. Designed with extended range external antennas and Dual Band technology (both 2.4Ghz and 5GHz) the DWA-582 provides performance up to 4 times faster than previous-generation Wireless N, meaning that you can stream HD movies, transfer large files, and enjoy lag-free gaming from more places throughout your home or office.
Wireless AC Technology for Fast Speeds
The D-Link  AC1200 Wi-Fi PCI Express Adapter with Wireless 802.11ac technology maximizes the speed and range of your Wi-Fi signal to significantly outperform Wireless N devices. The DWA-582 fits into any standard PCI Express slots – x1, x4, x8, or x16.
Get Connected, Stay Connected
The AC1200 Wi-Fi PCI Express Adapter is powered by Wireless 802.11ac technology and uses two 4.5dBi external antennas to provide superior wireless reception in your home or office. This adapter is designed for use in larger homes and offices, or for users running multiple bandwidth-intensive applications. This adapter enables you to simultaneously make or receive Internet phone calls (VoIP), surf the Web, transfer files, and stream High-Definition (HD) media when connected to a Wireless AC Router or Modem Router. The DWA-582 supports WPA™ and WPA2™ encryption that allow you to connect securely to a wireless network.
The Benefits of Dual Band
The dual band AC technology in the DWA-582 supports selectable 2.4GHz or 5GHz wireless signals. This allows you to check e-mail and browse the Internet using the 2.4GHz band or stream HD movies and other media on the 5GHz band. The 5GHz wireless band is the best technology available for wirelessly streaming HD videos across your network. It achieves this by operating in a clear wireless band to help avoid interference that may slow down and limit the range of current wireless technologies like 802.11n. The DWA-582 is also backward compatible to 802.11 a/g/n, which means it can be used with existing wireless networks.
Features:
Dual-band Wireless AC Technology
Fully utilize the power and speed of your Wireless AC network
Dual-band technology offers flexibility and versatility depending on your connectivity needs
Latest Wireless AC technology delivers maximum performance and reliability
Total Wireless Security
Connect to wireless networks securely using the latest encryption methods
Supports WPA / WPA2 encryption for high-level wireless security
Use Wi-Fi Protected Setup (WPS) to establish a secure connection with the press of a button
Convenient PCI Express Installation
Instantly adds Wireless AC capabilities to any computer with a spare PCI Express slot
Internal installation conserves space, and stays out of your way
Superior performance over the legacy PCI interface
Technical Specifications:
D-Link DWA-582 Specifications
Interface
PCI Express (PCIe)
Antennas
Two 4.5 dbi external dipole antennas
Wireless Frequency

2.4 to 2.5 GHz
5.15 to 5.850 GHz

Wireless Standards
802.11ac/n/g
Security
LEDs
Activity
Advanced Features

Advanced Quality of Service (QoS)
WMM
RoHS compliant

Dimensions
4.76 x 3.11 x 0.98 inches
Weight
1.72 ounces
Operating Voltage
3.3 V DC ± 10%
Power Consumption
Max. 3.3 V / 1A
Temperature

Operating: 32 to 104 °F
Storage: -4 to 149 °F

Humidity

Operating: 0% to 90% non-condensing
Storage: 5% to 95% non-condensing

Certifications

CE
FCC
IC
C-Tick
NCC
Wi-Fi Certified
Comparison Chart: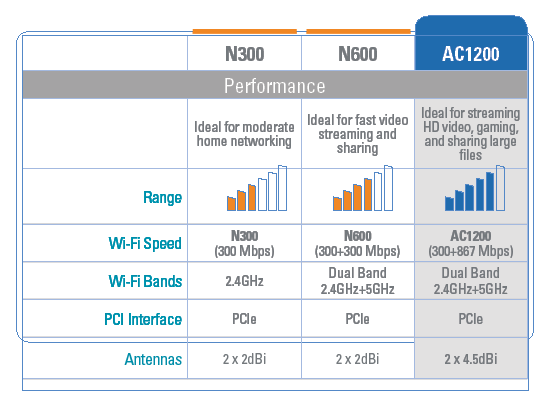 Pricing Notes:
Pricing and product availability subject to change without notice.